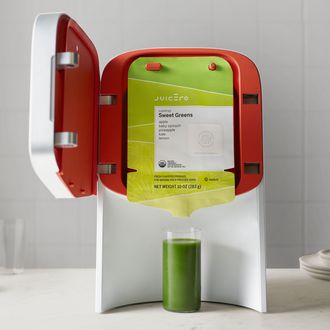 Silicon Valley juicing start-up Juicero's new CEO Jeff Dunn has responded to yesterday's earthshaking Bloomberg report, which revealed that the $400 Wi-Fi juice press was about as effective as human hands at squeezing juice out of a large bag. Juicero had raised $120 million in funding, but it forgot one crucial thing: Its customers are human beings with bodies that can also be used to perform physical tasks.
In a post on Medium, Dunn responded with some dubious points, none of which — to my mind — justify the cost of the hardware.
Our connected Press itself is critical to delivering a consistent, high quality and food safe product because it provides:

The first closed loop food safety system that allows us to remotely disable Produce Packs if there is, for example, a spinach recall. In these scenarios, we're able to protect our consumers in real-time.

Consistent pressing of our Produce Packs calibrated by flavor to deliver the best combination of taste and nutrition every time.

Connected data so we can manage a very tight supply chain, because our product is live, raw produce, and has a limited lifespan of about 8 days.

The value of Juicero is more than a glass of cold-pressed juice. Much more.

"The sum of the system  —  the Press, Produce Packs and App  —  working together is what enables a great experience," he writes. Dunn then demonstrated what was in the packs by cutting into one and scooping out the produce inside.
(For the record, this is not what Bloomberg did. Its reporters smushed the pack and forced out the juice in a way similar to how the Juicero itself functions.)
In a show of good faith, Dunn offered to let anyone feeling buyer's remorse return their Juicero for a full refund.