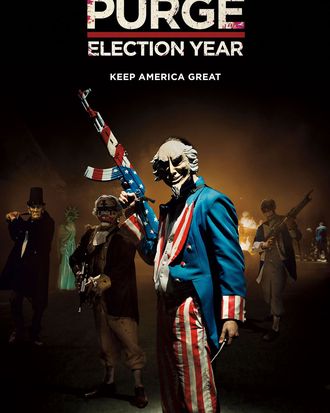 The Purge: Election Year poster.
Photo: Universal Pictures
President Trump's son-in-law Jared Kushner has hired a publicist practiced in the art of selling scary things to lead communications for his new White House office. Josh Raffel is joining the newly created White House Office of American Innovation after leading PR efforts at Blumhouse Productions, the plucky horror house that put out The Purge, Paranormal Activity and, most recently, Get Out, among other movies.
Before joining Blumhouse, Raffel worked for Manhattan-based Hiltzik Strategies, which repped Kushner's family business. Trump's strategic communications director Hope Hicks is also a former Hiltzik employee.
While Raffel's history with Kushner Companies no doubt played a role in his hiring, so too must have the obvious parallels between the job he's leaving and the one he's taking. Even if you're inclined to believe that the Kushner-led Office of American Innovation will be nothing like a horror movie, it's impossible to deny the shared aesthetic between what Raffel used to sell and what he'll be selling now. Just look above at the tag line on the poster for The Purge: Election Year. It says "Keep America Great," and it's the same line Trump plans to use for his 2020 reelection bid.