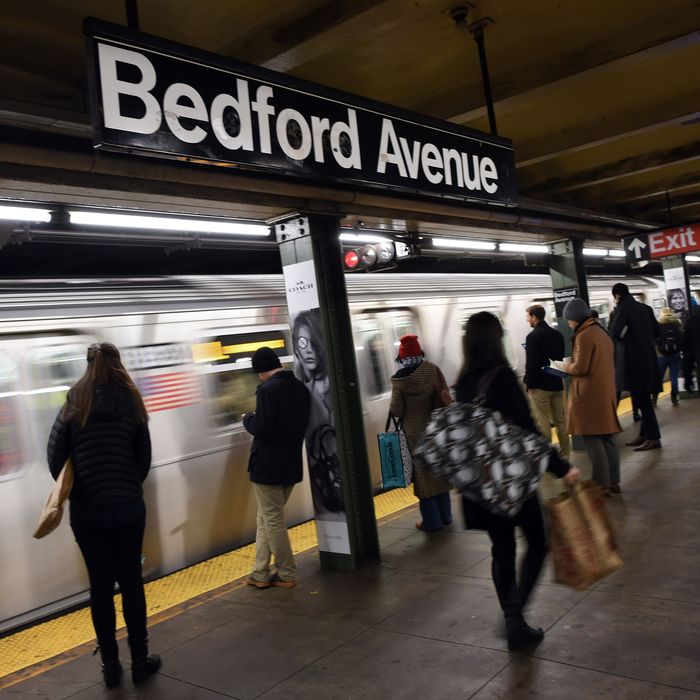 Bedford Avenue in Brooklyn.
Photo: Don Emmert/AFP/Getty Images
Somewhat good news, North Brooklynites: The MTA has clipped short the dreaded shutdown of the L Train tunnel. The agency expects the repair to take 15 months, instead of the originally planned 18 months. Construction will start two years from now, in April 2019.
The MTA awarded a $477 million contract for the rehabilitation project at its board meeting. For those skeptical that the MTA will meet its deadline, let alone a tighter one: An MTA official with the agency said the main contract-holder, Judlau Contracting, will face fines of $410,000 per day if it goes over that 15-month mark. Some board members were wary about working with Judlau, as it's gotten some flak for its work on the much-delayed Second Avenue subway and the Cortlandt Street station in Lower Manhattan, reports the New York Times — but the body decided to take that gamble.
The L train shuttles about 250,000 riders per day between Brooklyn and Manhattan through the Canarsie Tube, the approximately century-old tunnel under the East River that was ravaged during Hurricane Sandy. The MTA will completely suspend L service between Manhattan and Brooklyn during the restoration. The fix, however painful, is necessary. The MTA has promised to increase service on nearby lines such as the G, J, and M, but detailed contingencies — including buses or ferry options — are still TBA.