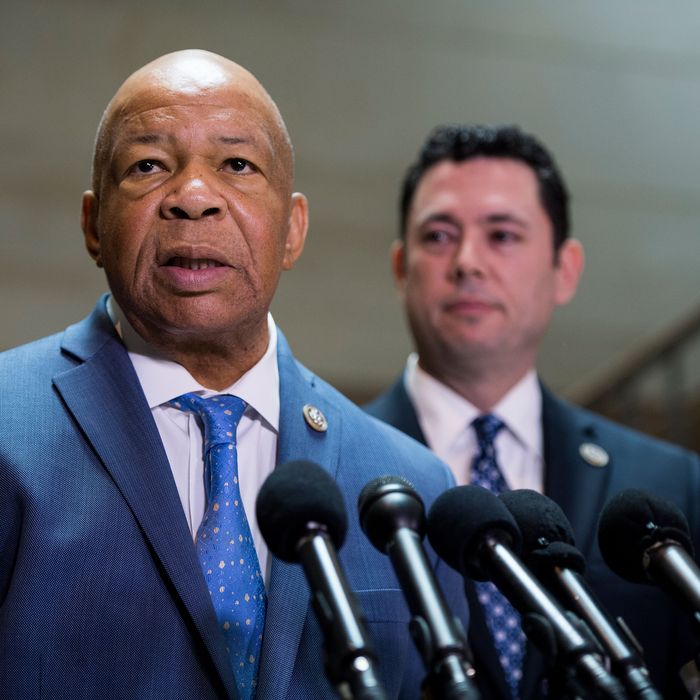 Lock him up?
Photo: Bill Clark/CQ-Roll Call,Inc.
President Trump's first national security adviser appears to have violated the law by failing to disclose payments he received from Russia's government — even as he sought a security clearance from our own — senior lawmakers on the House Oversight Committee said Wednesday.
Michael Flynn's tenure in the White House was cut short by revelations that he had misled Vice-President Pence about the nature of his conversations with the Russian ambassador. Weeks after his departure, Flynn acknowledged that he had been on the payroll of the Turkish government while serving as a top surrogate and adviser to Trump's campaign — even as the GOP standard-bearer accused his rival of making "pay-to-play" arrangements with foreign governments.
Weeks after that, news broke that Flynn had neglected to list three Russia-linked sources of income — including $45,000 in speaking fees from the Kremlin-backed RT news network — in his legally required White House ethics forms.
Both of those actions appear to have contravened federal law, House Oversight chair Jason Chaffetz told reporters Tuesday. As a former general, Flynn was required to seek the government's permission before accepting payments from a foreign government. Then, after accepting the foreign payments, Flynn had a legal obligation to disclose them fully before taking a job with the Trump administration.
"I see no data to support the notion that General Flynn complied with the law," Chaffetz said. "It does not appear to us that [permission] was ever sought."
"As a former military officer you simply cannot take money from Russia, Turkey or anybody else, and it appears as if he did take that money," the soon-t0-be former House Oversight chair continued. "It was inappropriate and there are repercussions for the violation of law."
Chaffetz and the committee's ranking Democrat Elijah Cummings reached these conclusions after receiving a classified briefing on Flynn's conduct.
Cummings told reporters that, while he was not authorized to discuss the details of the documents he'd been shown, "we can say this: They are extremely troubling." He added: "I believe these documents should be declassified to the fullest extent possible."
The White House seems to disagree. The House Oversight Committee has requested Flynn's security clearance paperwork, receipts from payments he received from foreign governments, and other documents related to the hiring and firing of the former national security adviser.
The Trump administration has refused to honor a single one of those requests. On Tuesday, the committee released a letter it had received from the White House last week, in which the administration claimed it was "unable" to provide the desired documents, as some of the papers were not in its "custody or control" while others were "likely" to contain classified information.
"The White House has refused to provide this committee with a single piece of paper," Cummings said. "And that is simply unacceptable."