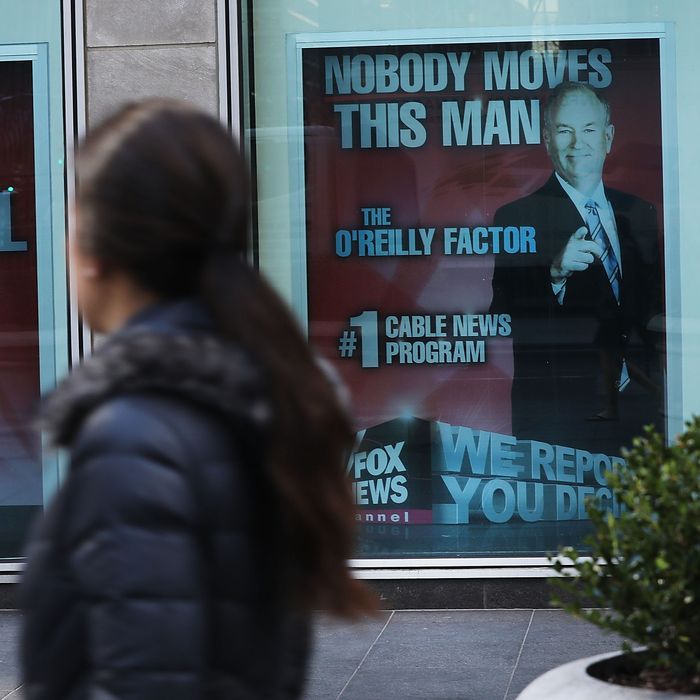 Ads for The O'Reilly Factor installed in the windows of the News Corporation building in New York.
Photo: Spencer Platt/Getty Images
The lawyer representing a woman who has accused Fox News star Bill O'Reilly of sexual harassment announced on Sunday that Fox News's parent company, 21st Century Fox, has launched an internal investigation into her client's claim. Attorney Lisa Bloom explained on Sunday morning's broadcast of CNN's Reliable Sources that she and her client, Wendy Walsh, reported the alleged harassment using 21st Century Fox's corporate hotline last week. Bloom then announced that attorneys for the company have since contacted her and told her that they are taking the allegation seriously and conducting an investigation as they are legally required.
CNN was unable to obtain a comment from Fox News regarding the new investigation.
Walsh was one of the women featured in a recent New York Times exposé regarding allegations of sexual harassment made against O'Reilly as well as the nearly $13 million that O'Reilly and Fox had paid to settle the claims out of court. Walsh appeared multiple times on O'Reilly's top-rated Fox News show, The O'Reilly Factor, in 2013, and alleges that O'Reilly broke a promise to get her a job at the network after she rejected his request to join him in his hotel suite following a dinner that same year. Walsh has not sued O'Reilly or Fox for damages nor sought a settlement.
In a statement responding to the Times story, O'Reilly denied the allegations and noted that no co-worker had ever filed a complaint against him with human resources or by using Fox's anonymous hotline. 21st Century Fox also pointed out the lack of hotline reports in their own statement. According to Bloom, that no longer appears to be the case.
Fox News and 21st Century Fox have stood by their star, but some 60 advertisers have pulled their ads from O'Reilly's show on account of the Times investigation and the resulting uproar. His ratings, however, have actually gone up since the scandal broke.