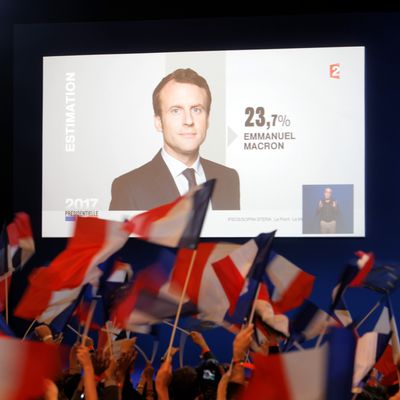 Supporters of centrist candidate Emmanuel Macron celebrate his victory in the first round of France's presidential elections on Sunday.
Photo: Sylvain Lefevre/Getty Images
Centrist independent Emmanuel Macron and far-right nationalist Marine Le Pen will face off in a runoff election for the French presidency, following the first round of nationwide voting on Sunday. Macron, a 39-year-old political novice, appears to have won the majority of the vote, with around 24 percent, while the populist Le Pen came in second, with at least 21 percent, according to preliminary projections based on exit polls. They defeated a crowded field of nine other candidates to advance to the next and final round of voting on May 7. The two outsiders' victories also signal a stark rejection of the two main political parties that have traditionally led France, the center-right Républicains and the mainstream-left Socialist Party, and the upcoming runoff will be the first time that no major party is represented in a French presidential election.
In her victory speech, the 48-year-old Le Pen hailed the "historic result" and declared herself the "people's candidate" in the upcoming election. "It is time to liberate the French nation from arrogant elites who want to dictate how it must behave," she added. A win for Le Pen, who favors closed borders and wants France to leave the European Union and reestablish its own currency, could have dramatic implications for the future of Europe.
Macron, a former investment banker who favors closer integration with the EU, did not challenge Le Pen directly in his victory speech but tried to present a more optimistic message. "The challenge from tonight is not to go vote against anyone," he told supporters. "The challenge is to decide to completely break with the system that has been unable to address the problems of our country for more than 30 years." Macron also spoke of French unity, but added that he wanted to become the "president of patriots, to face the threat of nationalists."
François Fillon, the scandal-plagued former front-runner in the race, conceded defeat after seeing the exit poll numbers. The Républicain and former prime minister then immediately called on his supporters to back Macron against the anti-immigrant Le Pen and her far-right National Front party, warning that the "extremist" party represents violence and intolerance and, if put in power, "would lead our country to bankruptcy and Europe into chaos."
Fillon and far-left candidate Jean-Luc Mélenchon each won less than 20 percent of the vote, according to exit polls. The Socialist Party candidate, Benoît Hamon, came in a distant fifth with just over 6 percent of the vote. He also urged his supporters to back Macron in the runoff. French prime minister Bernard Cazeneuve, also of the Socialist Party, offered his endorsement for Macron on Sunday as well, asking voters to block the National Front's "funereal project of regression for France and of division of the French."
Polls have indicated that Macron is likely to easily defeat Le Pen in the runoff. Regardless of who wins on May 7, however, parliamentary elections in June will ultimately decide how much power France's next president — who will undoubtedly need to form a coalition government — will actually have.
This post has been updated throughout to reflect new details in a breaking news story.