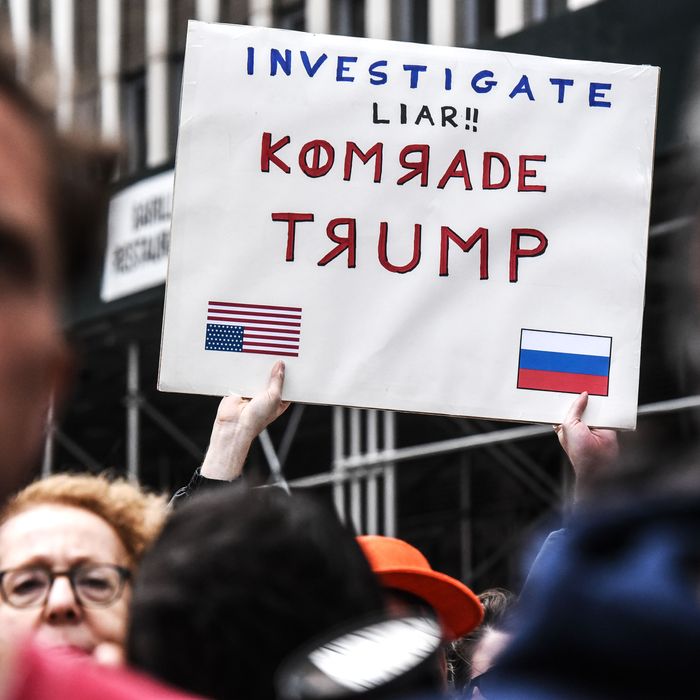 One of the 56 percent.
Photo: Stephanie Keith/Getty Images
More than half of the country believes Russia tried to influence the results of the 2016 presidential election, according to a Washington Post-ABC News poll that found 56 percent of U.S. adults willing to sign on to the theory. Meanwhile, 39 percent of Americans say they think the Trump campaign worked with the Kremlin to get their man in the White House.
If you isolate the Democrats and Democratic-leaning independents, the percentage alleging collusion climbs all the way up to 60 percent.
Unsurprisingly, Republicans aren't nearly as sold on the idea. Still, 18 percent of Republicans and Republican-leaning independents say that Trump aides helped Russia in its efforts to swing the race.
The poll also asked U.S. adults their thoughts on the Obama administration's alleged spying on the Trump campaign. The results look exactly as expected. Among Republicans, 55 percent say it happened, while only 14 percent of Democrats believe the accusations.
Despite all the partisanship evident in these results, the poll did manage to find one thing on which the parties can agree. When it comes to confidence in Congress's ability to conduct a fair investigation into the issue of Russia's alleged election meddling, everyone has doubts.