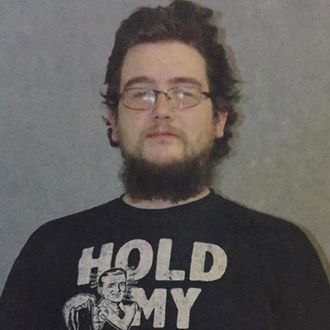 Check out that shirt.
Photo: CONNECTICUT STATE POLICE TROOP
The past two weeks on Twitter — that Pepsi ad with Kendall Jenner, United Airlines doing seemingly everything wrong, Sean Spicer's existence — have been one big, beer-fueled joke. If you haven't seen at least 12 iterations of the "hold my beer" joke swirling around, then you're probably not using the platform. (Your life is also probably richer for it.) But one Connecticut man has, inadvertently, taken the joke to the next level, by getting arrested for drunk driving while wearing a graphic T-shirt emblazoned with the joke. Harrison Wootton, 25, crashed his car into a graveyard sporting the shirt, the New York Daily News reports.
Life imitates art. Now please, please stop making this joke.