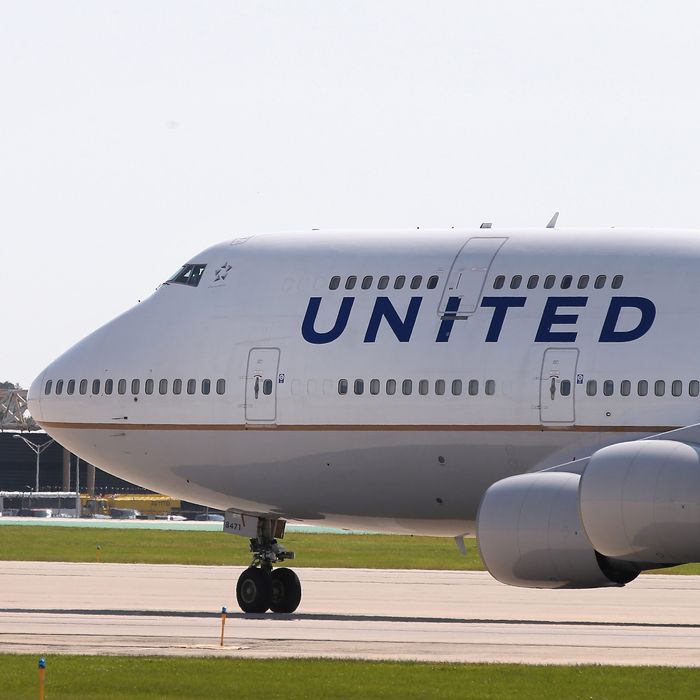 Photo: Scott Olson/Getty Images
On Sunday evening, United Airlines Flight 3411 was scheduled to fly from Chicago to Louisville. Since the plane was overbooked, the airline asked four passengers to give up their seats before the flight could depart. (The airline reportedly needed seats to get four United crew members to Kentucky for another flight the next day.) When not enough people willingly volunteered, Courier-Journal.com reports, United's computer system chose people at random. One of them, a man, became "very upset" according to another passenger, and said he was a doctor with patients he needed to see in Kentucky. When he refused to give up his seat, the passenger was lifted out of his seat by airline security, and dragged down the aisle of the plane on his back. Another passenger caught the moment on video, and shared it on Twitter:
The video (which was also shared on Facebook by another passenger) has already been retweeted thousands of times, and prompted plenty of responses from people upset by the way United handled the situation.
"Flight 3411 from Chicago to Louisville was overbooked. After our team looked for volunteers, one customer refused to leave the aircraft voluntarily and law enforcement was asked to come to the gate," a United spokesperson told Courier-Journal.com. "We apologize for the overbook situation. Further details on the removed customer should be directed to authorities." The passenger was ultimately allowed back onto the plane for the trip to Louisville, but returned looking "bloody" and "disoriented," another passenger said.
Update, April 10, 2017, at 3:30 p.m.: Other disturbing videos and photos of the incident have since surfaced on Twitter. In one clip, the man appears to be saying, "just kill me," while standing in the plane with a blood-covered face.
United has since issued a formal statement via its Twitter account, from CEO Oscar Munoz. In it, Munoz characterizes what happened on Flight 3411 as a passenger reaccommodation.