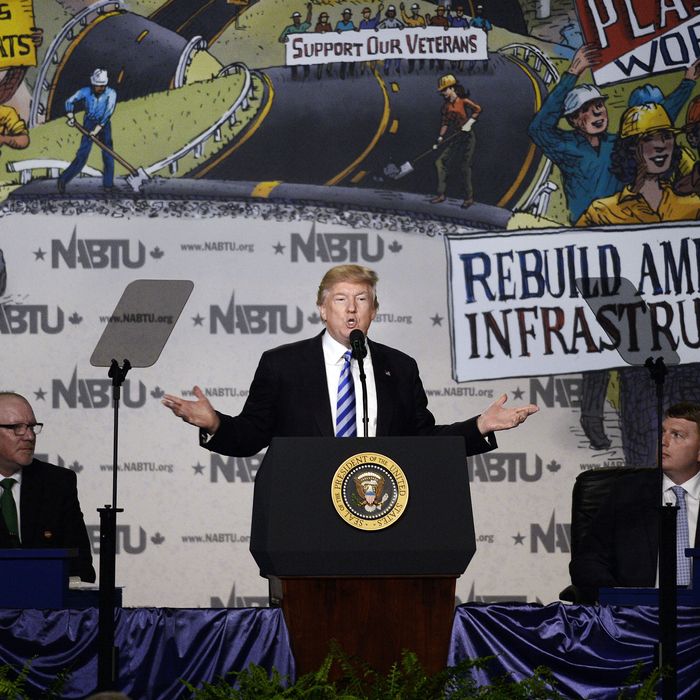 Looks like Trump may need that infrastructure package to get the job growth he wants after all.
Photo: Olivier Douliery - Pool/Getty Images
The Donald Trump administration got its first meh jobs report today, as the Bureau of Labor Statistics reported a net gain of just 98,000 jobs in March, along with a downward revision of January and February gains by 38,000 jobs.
Here was the New York Times' takeaway:
Hiring in March was expected to drop after the monthly gains of more than 200,000 in the two previous months, but this was the weakest showing for the economy in nearly a year. Although it represents just one month's data, it will raise questions about whether improving business sentiment is actually translating into any meaningful action by employers.
The numbers were significantly below expectations, particularly after the ADP estimates earlier this week, as The Wall Street Journal noted:
Part of the reason this morning's jobs report caught many off guard was how much it departed from the ADP private payroll number earlier this week, which came in sharply above expectations. That figure suggested private payrolls rose by 263,000 last month, according to payroll processor Automatic Data Processing and forecasting firm Moody's Analytics–165,000 more than the Labor Department's report, which said payrolls rose by a seasonally adjusted 98,000 in March.

"The difference between ADP forecast & BLS Nonfarm Payrolls was the largest since Jun '13," wrote Randy Frederick, vice president of trading and derivatives at the Schwab Center for Financial Research.
This must have been especially embarrassing to the Trump fans at Breitbart, who treated the ADP numbers as though they were official with this headline: "The Great American Jobs Boom Rolls on as Private Sector Creates 263,000 Jobs in March."
There was some good news in the March report: The official unemployment rate ticked down to 4.5 percent, though other employment and wage data were largely flat.