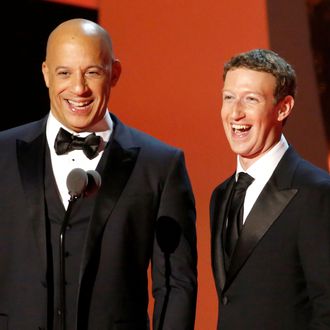 Photo: Kimberly White/Getty Images
There is perhaps no tech bromance more heartening than the one between Mark Zuckerberg and Vin Diesel. One controls the most powerful information-distribution network in the world (Facebook), the other controls the most powerful film franchise in the world (The Fast and the Furious saga). Diesel also controls one of Facebook's few remaining bright spots, a fan page known as the Vinbook, where he posts fanart, karaoke videos, and posthumous tributes to "Pablo," Fast co-star Paul Walker.
The Vinbook is such a powerful force for good in this cruel world that it caught the eye of Zuck himself, and the two struck up a relationship. The pair presented together at the Breakthrough Awards, a Silicon Valley industry awards show last year.
In an interview with the New York Times this week, Diesel also credits the thirtysomething billionaire with convincing him to return to the storied xXx franchise after more than a decade away.
Asked about his conversations with Zuckerberg, Diesel said:
I love him. He's such a great guy and he's a fan of my work. He probably encouraged me more than anyone else to return to Xander Cage. We were hanging out up at Facebook about two years ago, and I was excited about "Fast 7." He said, "You know what movie I'd most like to see is the return of Xander Cage." It's at a point where if Mark and I are together and if I quote a line from a character I played and I do it slightly wrong, he'll correct me. It's embarrassing!
Congrats to these two famous friends! Zuckerberg has not publicly expressed any interest in joining the #FastFamily, but he has been getting conspicuously swole over the past year. Anything can happen.