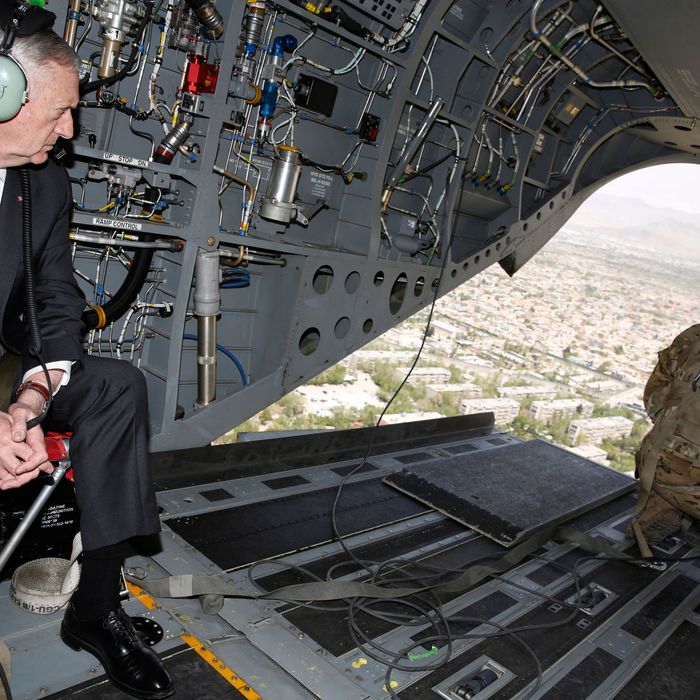 U.S. Defense Secretary James Mattis looks out over Kabul as he arrives via helicopter at Resolute Support headquarters on April 24, 2017, in in Kabul, Afghanistan. Mattis is on a regional tour of the Middle East.
Photo: Jonathan Ernst/Getty Images
Secretary of Defense James Mattis arrived Monday at NATO headquarters in Afghanistan, a surprise visit tacked on the end of the former general's Middle East tour.
Mattis's visit — taking place a little more than a week after National Security Adviser H.R. McMaster's trip — comes at a precarious time in the more-than-15-year-long war. On Monday, the Taliban allegedly detonated a car bomb in front of a U.S. base in eastern Afghanistan, though the details and number of casualties are not yet known. That explosion follows the bloody Taliban raid on a northern Afghan army base on Friday that left as many as 140 dead and more than 150 wounded. The Taliban fighters, who disguised themselves in army uniforms, ambushed hundreds of unarmed soldiers right after they had finished prayers. It is believed to be the single deadliest attack on an Afghan military base since the start of the war, reports the New York Times.

Afghanistan's defense minister and army chief resigned in the wake of the rampage, citing the "national interest." Friday's brutal attack came about a week after the United States used one of its arsenal's largest nonnuclear bombs in eastern Afghanistan to target a network of caves reportedly harboring ISIS fighters.
The Trump administration is reportedly reviewing its strategy in Afghanistan, and potentially mulling requests to send additional troops to the embattled country in the wake of Taliban gains and ISIS's surge. There are more than 8,000 American troops still in Afghanistan; General John Nicholson, the top U.S. commander in Afghanistan, has requested thousands more military personnel to help reset the offensive against the terror groups.