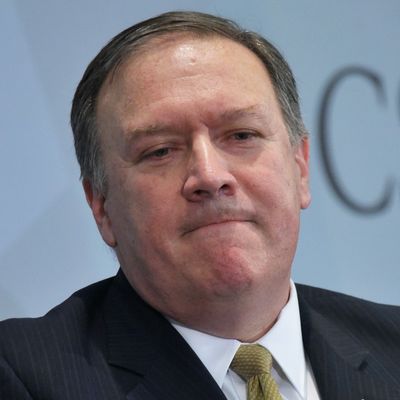 CIA Director Mike Pompeo speaks at the Center for Strategic and International Studies on April 13, 2017.
Photo: MANDEL NGAN/AFP/Getty Images
It's Flip-Flop Week in the Trump White House, and in keeping with this theme Mike Pompeo used his first speech as CIA director to go after WikiLeaks, calling it "a non-state hostile intelligence service often abetted by state actors like Russia."
"WikiLeaks walks like a hostile intelligence service and talks like a hostile intelligence service," Pompeo said during his remarks at the Center for Strategic and International Studies on Thursday. He noted that the organization had encouraged people to steal CIA secrets (such as the recent revelation that they can hack your TV) and "it overwhelmingly focuses on the United States while seeking support from antidemocratic countries."
Pompeo also took aim at WikiLeaks founder Julian Assange, calling him "a narcissist who has created nothing of value," as well as a "fraud" and "a coward hiding behind a screen." "In Kansas, we know something about false wizards," added Pompeo, who was a U.S. representative from the state until Trump tapped him to lead the CIA.
This certainly isn't a strange view for a U.S. intelligence official, but it's odd to hear it coming from Pompeo. As WikiLeaks pointed out, last summer he tweeted out a conservative blog post about the Democratic National Committee emails stolen by Russia and posted by WikiLeaks.
The tweet has since been deleted, and during his confirmation hearing in January Pompeo suggested he didn't remember it.
Trump has made a similar but less dramatic shift. During the campaign he declared, "We love WikiLeaks," and in January he appeared to side with Assange over the U.S. intelligence agencies regarding their conclusion that Russians hacked the DNC. Last month, White House Press Secretary Sean Spicer said Americans should be "outraged" by the leak of CIA spying techniques, but Trump hasn't explicitly condemned the group.
On Thursday Pompeo said his relationship with President Trump is "fantastic" despite his previous clash with intelligence agencies. "No, don't laugh," Pompeo said. "I mean that."