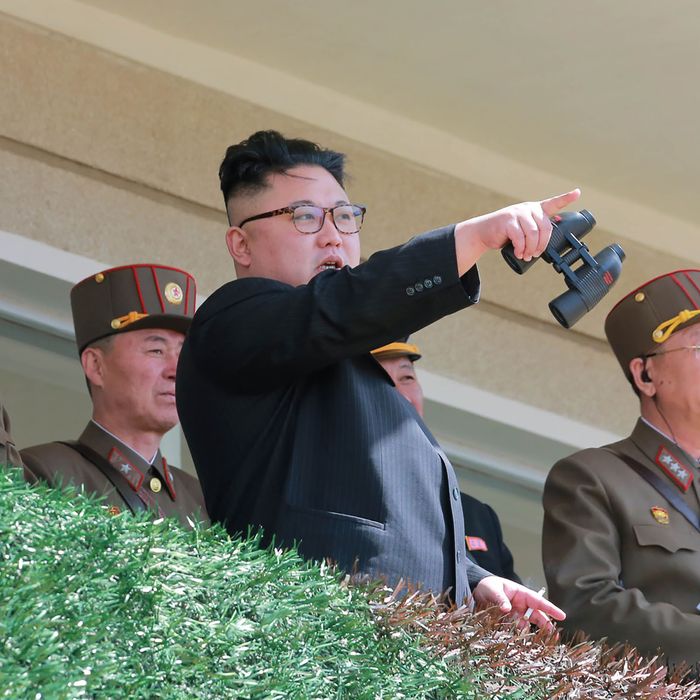 North Korean dictator Kim Jong-un inspects his military forces in an undated photo released by North Korea's state news agency on April 14, 2017.
Photo: STR/AFP/Getty Images
After taking his second major military action in less than a week, President Trump was asked on Thursday if dropping the "mother of all bombs" on an ISIS target in Afghanistan should serve as a warning to North Korea.
"I don't know if this sends a message, it doesn't make any difference if it does or not," Trump said. "North Korea is a problem, the problem will be taken care of."
How, exactly, North Korea will be "taken care of" remains unclear. Trump has repeatedly suggested that the U.S. will move to curtail North Korea's nuclear program, even if China won't. However, General John Hyten, the commander of U.S. Strategic Command, recently said a solution that does not involve China does is not feasible. Trump seemed pleased by whatever assurances he received from Chinese president Xi Jinping during their meeting last week, but on Thursday morning he made another vague threat of unilateral U.S. action.
A senior U.S. official said last week that the recent review of the United States' North Korea policy "de-emphasizes direct military action," but preemptive military strikes hadn't been ruled out. On Thursday afternoon, a report from NBC News suggested they were very much on the table:
The U.S. is prepared to launch a preemptive strike with conventional weapons against North Korea should officials become convinced that North Korea is about to follow through with a nuclear weapons test, multiple senior U.S. intelligence officials told NBC News.

… The intelligence officials told NBC News that the U.S. has positioned two destroyers capable of shooting Tomahawk cruise missiles in the region, one just 300 miles from the North Korean nuclear test site.

American heavy bombers are also positioned in Guam to attack North Korea should it be necessary, and earlier this week, the Pentagon announced that the USS Carl Vinson aircraft carrier strike group was being diverted to the area.

The U.S. strike could include missiles and bombs, cyber and special operations on the ground.
The report sparked great alarm, particularly because North Korea appears poised to stage a sixth nuclear test any day now. Saturday is the birthday of North Korea's founder, Kim Il Sung, and in recent days there's been activity around Punggye-ri, the site of the previous tests. The independent monitoring agency 38 North said the area appeared to be "primed and ready."
However, other journalists said multiple sources were pushing back on the NBC News report:
NBC noted that South Korea would have to sign off on any preemptive attack:
Implementation of the preemptive U.S. plans, according to multiple U.S. officials, depends centrally on consent of the South Korean government. The sources stress that Seoul has got to be persuaded that action is worth the risk, as there is universal concern that any military move might provoke a North Korean attack, even a conventional attack across the DMZ.
Senior Trump administration officials told The Wall Street Journal that even a U.S. military response to a provocation from North Korea this weekend is unlikely. They said the U.S. military is capable of intercepting North Korean missile tests, but they worry that could escalate the situation and anger China.
Trump praised China for turning coal-carrying cargo ships back to North Korea this week, and it appears that the administration wants to wait to see if China actually steps up pressure on its neighbor.
Some former U.S. officials told the Journal that they're skeptical, since China disappointed the last two administrations after suggesting they would help rein in North Korea.
Plus, Kim Jong-un isn't going to wait to see how things play out. In an interview with the Associated Press on Thursday, North Korea's vice–foreign minister said the country "certainly will not keep our arms crossed" if the U.S. launches a preemptive strike. Vice Minister Han Song Ryol said North Korea will launch a nuclear test whenever it sees fit, and added President Trump's tweets to the nation's list of grievances against the U.S. "Trump is always making provocations with his aggressive words," he said. "It's not the DPRK but the U.S. and Trump that makes trouble."