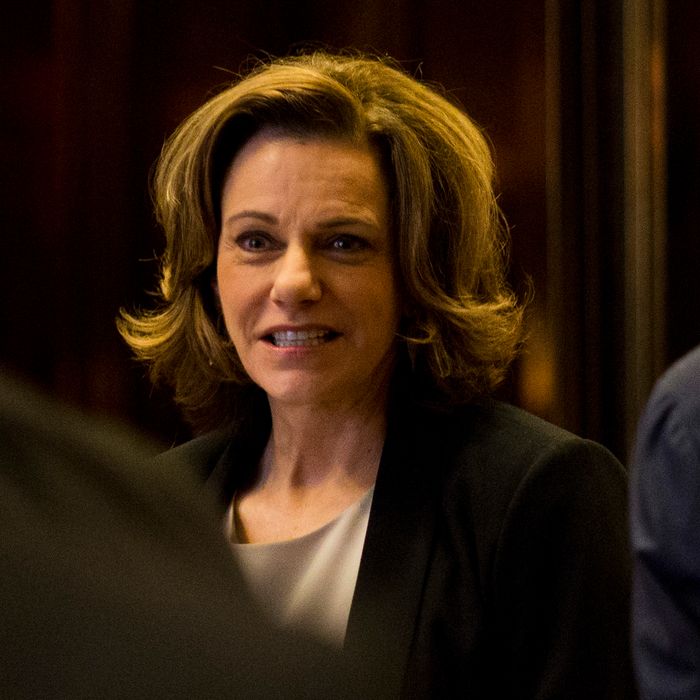 McFarland at Trump Tower in December.
Photo: Dominick Reuter/AFP/Getty Images
K. T. McFarland, the former Fox News analyst who was a key ally of fired national security adviser Michael Flynn, has reportedly been asked to resign from her role as the White House's deputy national security adviser. McFarland's departure, due to take effect in two weeks, is a demonstration of yet another way that Flynn's replacement, H. R. McMaster, is working to remake the National Security Council as he sees fit. The news follows last week's removal of Steve Bannon, President Trump's controversial chief strategist, from the NSC's principals committee — part of a McMaster-led reorganization reversing changes that had been made to the committee following Trump's inauguration.
McFarland will not be leaving the administration, however, as she will reportedly be nominated to be the U.S. ambassador to Singapore, a significantly lower-profile role, which will be subject to Senate confirmation. She is apparently being retained because President Trump wanted to soften the blow for his longtime ally. McFarland had been expected to resign following Flynn's ouster in February, but remained on in her role at the request of the president.
NBC News reports that McMaster is now looking both in and outside the administration for a new deputy. Dina Powell, a former Goldman Sachs executive and purported ally of President Trump's senior adviser and son-in-law, Jared Kushner, and daughter, Ivanka, was recently named a deputy national security adviser and will remain in that role alongside whomever McMaster recruits to replace McFarland.