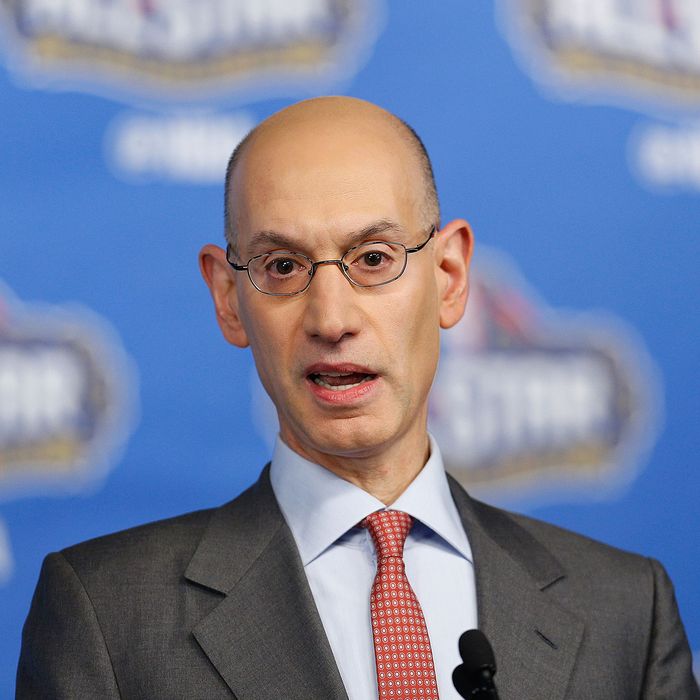 Adam Silver at this year's All-Star game.
Photo: Jonathan Bachman/Getty Images
NBA commissioner Adam Silver announced Friday that Charlotte will be eligible to host the 2019 NBA All-Star Game, following the state's pseudo repeal of the controversial HB2 "bathroom bill."
Last July, several months after the state began requiring people to use the bathroom matching the gender on their birth certificate, Silver announced that the NBA was yanking the 2017 All-Star Game from Charlotte. "While we recognize that the NBA cannot choose the law in every city, state, and country in which we do business, we do not believe we can successfully host our All-Star festivities in Charlotte in the climate created by HB2," the league said in a statement at the time. The game was played in New Orleans instead.
But after the March 30 partial repeal of the law, the league is ready to bring its weekend of All-Star activities back to the Tar Heel state. That won't sit well with critics who say the repeal is in name only. Despite rescinding HB2, the new law forbids local governments from passing anti-discrimination laws, and leaves open the possibility that the legislature will pass a different law that accomplishes the same thing as HB2.
While Silver did not guarantee that Charlotte will host the game, he said that it is his "expectation." Before Charlotte is officially awarded the game, Silver said sites hosting events would have to agree to meet the league's anti-discrimination requirements.
"I'm proud of the league's stance and announcing that we weren't going to play under those circumstances and I'm also proud that we're going back," he said Friday, adding the NBA can be a "force for change."