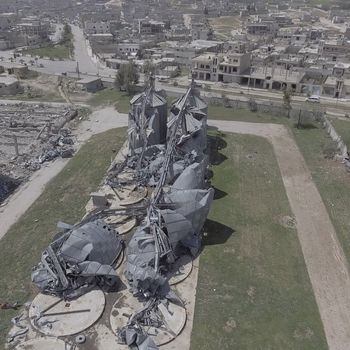 Aerial view of the damage from an alleged chemical-weapon airstrike on the Syrian town of Khan Sheikhoun on April 4.
Photo: Abdullah Hasan/Anadolu Agency/Getty Images
The Syrian town that was allegedly attacked by the Assad regime with chemical weapons earlier this week has been hit with new air strikes, according to activists and residents. The rebel-held town, Khan Sheikhoun, was reportedly targeted again on Friday and Saturday. Though it has not been confirmed who conducted the air strikes, only Syrian and Russian aircrafts have been active in that part of Idlib province before.
Syrian activists say the Saturday strikes targeted a residential neighborhood in the town, killing at least one person.
The Syrian regime stands accused of using weapons loaded with sarin gas in an attack on Khan Sheikhoun on Tuesday that killed at least 86 people — an attack which prompted military retaliation by the Trump administration on Thursday night. The airfield hit by that U.S. cruise missile strike was reportedly back in operation on Friday, and so it's possible that the new air strikes on the town were launched from the same base, Shayrat. In addition, some Syria experts have pointed out that the U.S. strike is unlikely to have seriously diminished the Syrian regime's military capabilities, and the regime still has as many as 20 other air bases at its disposal. The Daily Beast reports that air strikes have also been carried out on at least seven other towns since the U.S. intervention on Thursday.
There have been no reports that chemical weapons were used in any of the new attacks. It's also not clear how many residents remain in Khan Sheikhoun to be targeted following Tuesday's devastating strike — the Washington Post reports that it's now a ghost town.