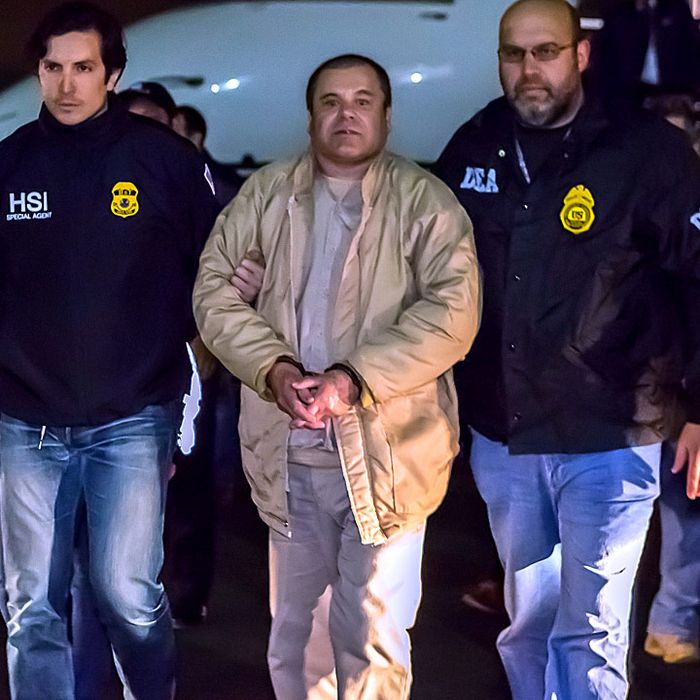 Wait, I thought Mexico was paying?
Photo: Charles Reed/U.S. Immigration and Customs Enforcement/Getty Images
President Donald Trump's big, beautiful border wall may no longer force a government shutdown this week, but that also postpones the charged question of how to fund the $20-billion-plus project. On that matter, Texas senator Ted Cruz is offering a solution: Get drug lords, including the Sinaloa cartel leader Joaquín "El Chapo" Guzmán, to foot the bill.
El Chapo, the notorious drug kingpin who is quite famously undeterred by walls, is currently awaiting federal trial in a Manhattan jail after being extradited to the United States from Mexico, in January, on a slew of charges from narcotics trafficking to money laundering. As part of El Chapo's indictment, federal prosecutors are seeking a forfeiture of $14 billion in "drug proceeds and illicit profits."
Ted Cruz's EL CHAPO Act — technically, the Ensuring Lawful Collection of Hidden Assets to Provide Order — would take that $14 billion from El Chapo, and any other assets seized from cartel operatives, and apply them to the cost of the border wall. "Fourteen billion dollars will go a long way toward building a wall that will keep Americans safe and hinder the illegal flow of drugs, weapons, and individuals across our southern border," said Cruz.