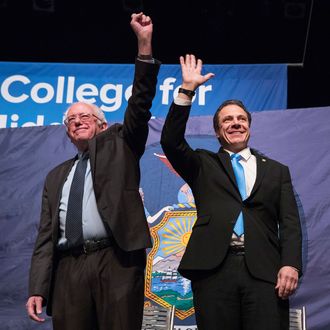 Photo: Mary Altaffer/AP Photo
Back in January – with Bernie Sanders standing at his side for maximum effect – Governor Andrew Cuomo announced a plan to make New York state, city, and community college tuition free for qualified students whose families make up to $125,000 a year. On Sunday night, the New York legislature passed a $153 billion state budget that, among other things, made Cuomo's proposal a reality. The plan, called the Excelsior Scholarship, will "be phased in over three years, with families making $100,000 or less annually eligible in the fall of 2017, with the threshold rising to $125,000 in 2019," NBC New York reports.
Excelsior funding will only be available to full-time students who have lived in New York for at least a year. After graduation, recipients will have to remain in the state for as many years as they were in the program or they will have to pay the money back. And while tuition – currently $6,470, $6,330, and $4,350 at SUNY, CUNY, and community colleges, respectively – will be waived, students will have to cover room and board, books, and fees. (According to Forbes, non-tuition costs can run as high as $15,520 at SUNY and $12,390 at CUNY for students not living at home.) Still, it beats taking out loans – and Cuomo, who's said to be considering running for president in 2020, won't let you forget it.