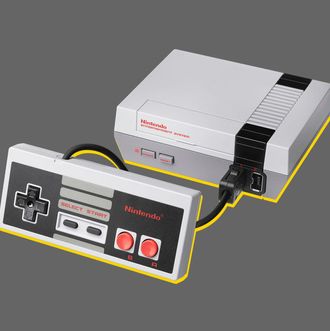 If you were hoping to snag one of Nintendo's NES Classic consoles, you might want to give up now. For consumers who weren't able to snag one in time for the holidays, and hoped they would magically appear back in stock afterward, we have some bad news.
Nintendo announced today that it was not producing any more cutesy consoles, which were an instant smash hit, selling out everywhere within minutes of going on sale. In a statement provided to Waypoint, it said:
Throughout April, NOA territories will receive the last shipments of Nintendo Entertainment System: NES Classic Edition systems for this year. We encourage anyone interested in obtaining this system to check with retail outlets regarding availability. We understand that it has been difficult for many consumers to find a system, and for that we apologize. We have paid close attention to consumer feedback, and we greatly appreciate the incredible level of consumer interest and support for this product.
For anyone familiar with Nintendo releases, their continued lack of understanding when it comes to consumer demand or the supply chain is hardly a surprise. Still, the mini NES was a replica of 30-year-old hardware and software; the margins on those things were probably pretty high.
Hopefully, in any event, Nintendo might learn from their mistakes when they inevitably announce some sort of Super NES version. And in the meantime, they just doubled production on their newest console, the Nintendo Switch, which shows a lot of promise.