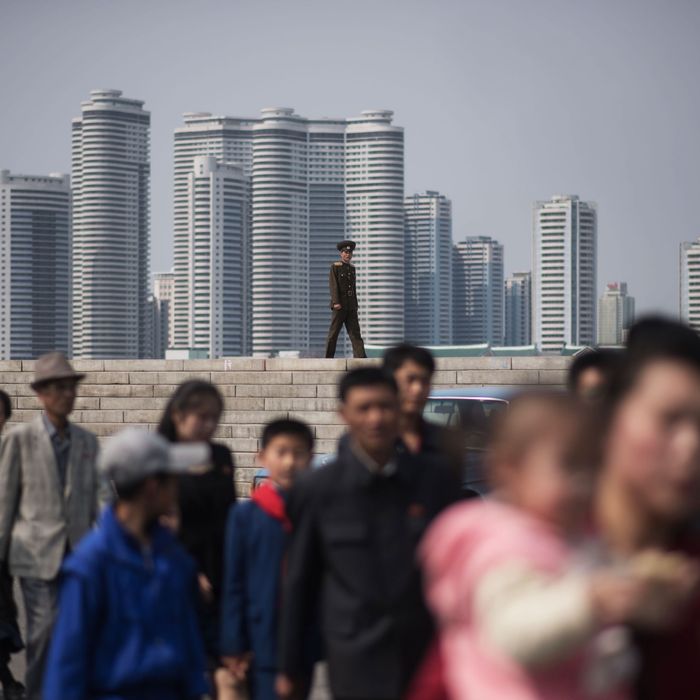 A soldier stands by as people queue to visit a flower show during an organized tour for visiting foreign journalists, in Pyongyang on April 16, 2017.
Photo: Ed Jones/AFP/Getty Images
At Monday's annual White House Easter Egg Roll, Donald Trump warned you "gotta behave." The directive wasn't to the slew of kids in attendance, but intended as a message to North Korean leader Kim Jong-un, who was fresh off presiding over an anniversary celebration for the country's founder, where it conducted a failed missile test and paraded around new ICBMs.
A North Korean official responded to that reprimand — and Vice-President Mike Pence's admonishment that the "era of strategic patience is over" — with a threat of its own, saying the United States is creating a "dangerous situation in which thermonuclear war could break out at any moment."
"North Korea is ready to react to any mode of war desired by the United States," added North Korea's deputy United Nations ambassador, Kim In-ryong. He called joint U.S.–South Korean military exercise an "aggressive war drill."
The warnings are the latest an an increasingly tense standoff between the United States and North Korea. A North Korean deputy foreign minister also told the BBC Monday that the country would continue to carry out missile tests "every weekly, monthly, and yearly basis."
White House press secretary Sean Spicer addressed the saber-rattling between the two countries, saying that he would not comment on exactly how President Trump would deal with North Korea. He "holds his card close to the vest, and I think you're not going to see him telegraphing how he's going to respond to any military or other situation going forward," Spicer said.
Spicer did say, however, that the North Korea situation wouldn't involve any "red lines" when it comes to Kim Jong-un's actions. "Drawing red lines hasn't really worked in the past," he said.