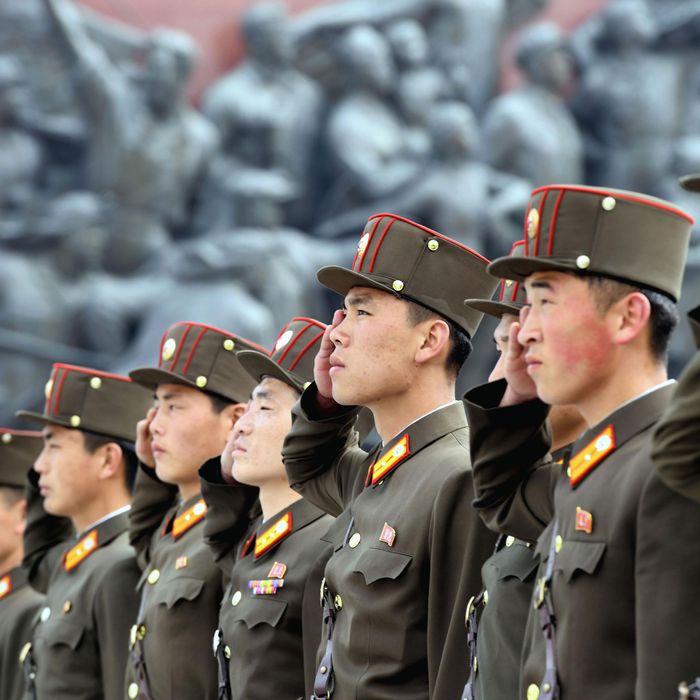 North Korean military personnel salute toward the statues of Kim Il-sung and Kim Jong-il at Mansudae Hill in Pyongyang on April 25, 2017.
Photo: Kyodo
North Korea celebrated the 85th anniversary of its military's founding with a large, live-fire artillery drill on Tuesday. Officials had feared that Kim Jong-un might use this milestone to conduct a nuclear-weapons test; instead he apparently opted to show off about 300 to 400 pieces of long-range artillery. The North Korean government also did not let up on its saber-rattling: "There is no limit to the strike power of the People's Army," wrote a North Korean official in a newspaper editorial, "armed with our style of cutting-edge military equipment including various precision and miniaturized nuclear weapons and submarine-launched ballistic missiles."
Pyongyang flexed its military might on the same day that the U.S.S. Michigan, a submarine equipped with cruise missiles, docked in South Korea. The rest of the so-called armada is now allegedly, really, headed toward the Korean peninsula where it will participate in joint U.S.-South Korea military exercises that are already underway.
Top Trump administration officials — including Secretary of State Rex Rillerson and Secretary of Defense James Mattis — are also briefing all U.S. Senate members on Wednesday, a rare move that underscores the geopolitical tension. Tillerson will also head up a special meeting of the United Nations Security Council on Friday.
Diplomats are also shuttling back and forth: Joseph Yun, the U.S. special representative for North Korea, is meeting with his South Korean and Japanese counterparts in Tokyo Tuesday. Some of North Korea's neighbors remain on edge, as fears escalate of a military showdown between between the Washington and Pyongyang. China has urged both countries to take a step back; President Xi Jinping delivered that message directly to Trump over the phone on Monday. In Japan, well within range of North Korea's missiles, nuclear fallout shelters and radiation-blocking air purifiers are hot items, and the government has also issued an official manual for citizens to protect themselves in the event of a North Korean attack.