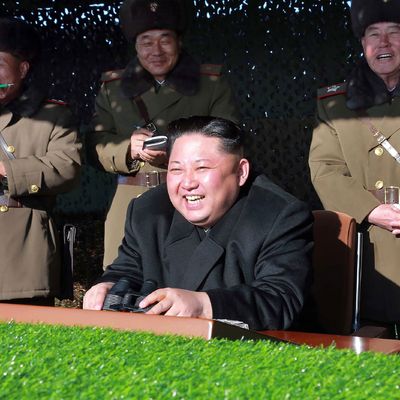 Troll.
Photo: KNS/AFP/Getty Images
With rumblings of a potential nuclear-missile test in North Korea, intelligence analysts are closely watching for the telltale signs of an impending underground explosion. But the only things happening at the Punggye-ri nuclear test site Sunday were a few games of volleyball.
"We see that at three locations in the facility — in the main administrative area, at the support area, at the command center and at the guard barracks near the command center — they have volleyball games going on," Joe Bermudez told Reuters. A North Korean expert with independent monitor 38 North, Bermudez said last week that all indications at Punggye-ri pointed toward Kim Jong-un being "primed and ready" to launch the test.
The volleyball games don't mean the predictions of a test were wrong, Bermudez says. But they could mean that Pyongyang's plan have gone nuclear into "standby mode." Or this could just be Kim's way of trolling observers, who he knows are using satellites to watch his every move.
As Kim plays games, China is growing increasingly agitated with its ally. "China is unswerving in its commitment to realising the denuclearisation of the Korean peninsula, maintaining the peace and stability of the Korean peninsula, and continue to solve matters through dialogue and negotiations," foreign ministry spokesman Lu Kang told the BBC Wednesday.
Beijing is particularly miffed about recent comments from North Korea's vice-foreign minister Han Song-ryol, who told the BBC that missile tests will be conducted on a "weekly" basis. In the same interview, he threatened the U.S. with "all-out" war if military action is taken against North Korea's weapons program.
Vice-President Mike Pence, who's on a ten-day tour of Asia, was just as bombastic in a speech Wednesday aboard the U.S.S. Ronald Reagan at the Yokosuka Naval Base in Japan.
"We will defeat any attack and meet any use of conventional or nuclear weapons with an overwhelming and effective American response," Pence said. "All options are on the table. History will attest the soldier does not bear the sword in vain."