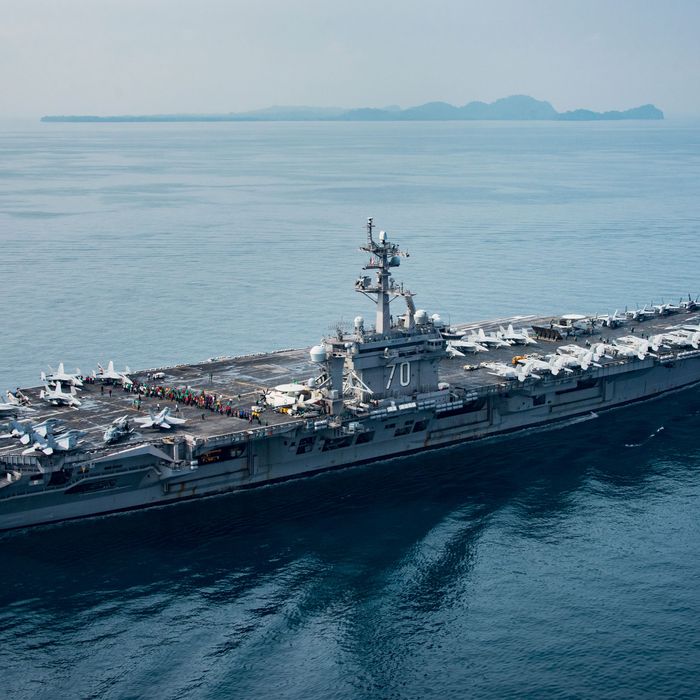 The USS Carl Vinson.
Photo: Sean M. Castellano/U.S. Navy via Getty Images
A Navy strike group led by the USS Carl Vinson is headed for waters off of the Korean peninsula. North Korean state media is promising that if those "arrogant aircraft carriers" get too close, Pyongyang will turn them into "a lump of scrap metal" — allowing the world to "clearly see" how the United States "vanishes from the Earth."
"Our super-hard-line responses include sudden, preemptive strikes involving land, naval, underwater, and airmobile assets," North Korea's state-run website Uriminzokkiri continued.
China is calling on both sides to take a deep breath and count to ten. In a phone conversation with president Trump, Chinese president Xi Jinping urged all parties to avoid any measures that might heighten tensions on the Korean peninsula, according to Chinese state media's CCTV.
Neither side seems to appreciate that advice.
America and Japan are going forward with naval exercises off the coast of North Korea, while Kim Jong-un's regime has reportedly detained a university lecturer with American citizenship — and is rumored to be preparing another nuclear test for Tuesday, to commemorate the 85th anniversary of the Korean People's Army.
These reciprocal aggressions are the latest developments in the ongoing standoff over North Korea's nuclear program. Pyongyang is making progress toward a nuclear warhead capable of reaching the West Coast of the United States, an initiative it justifies as a deterrent against an American invasion. President Trump has vowed to prevent North Korea from obtaining such a missile, even if doing so requires military action.
Asked whether the United States was considering a preemptive strike Monday, United Nations ambassador Nikki Haley told NBC's Today show, "We are not going to do anything unless he gives us reason to do something."
"If you see him attack a military base, if you see some sort of intercontinental ballistic missile, then obviously we're going to do that," Haley said of Kim. "But right now, we're saying 'don't test, don't use nuclear missiles, don't try and do any more actions,' and I think he's understanding that. And China's helping really put that pressure on him."
The tenor of North Korean state media lends some credence to that last claim. On April 21, the Korean Central News Agency complained that China is "dancing to the tune" of the United States.