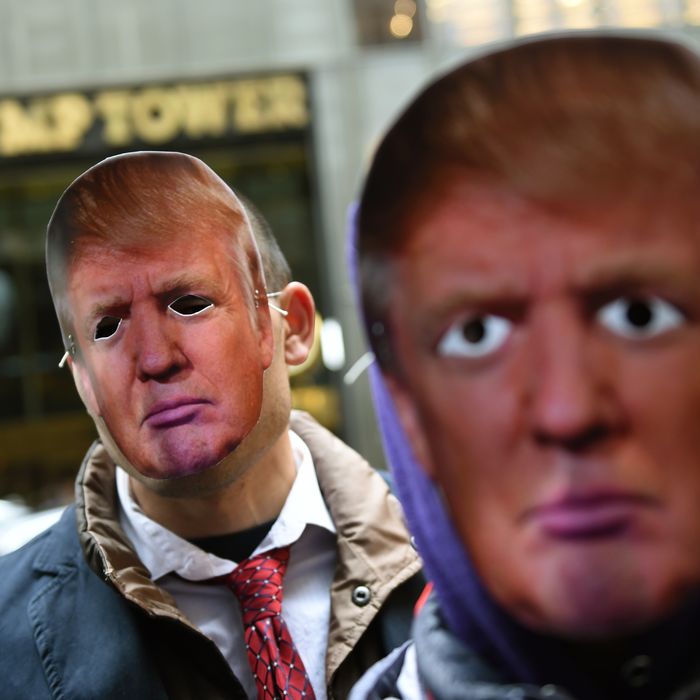 Marchers in the annual April Fools' Day Parade wear Trump masks outside of Trump Tower in midtown.
Photo: Timothy A. Clary/AFP/Getty Images
Though there were rumors that President Trump would spend a considerable amount of his free time in Manhattan after becoming president, New York City has now been Donald Trump-free for more than 70 days. The Associated Press points out that the New York native hasn't set foot in the city since January 19, the day before he became president, and though the longtime resident is expected to return to Trump Tower sometime in the next few weeks, Trump's relationship with the city has changed, according to his son Eric:
When he was in New York, his No. 1 thing was work. This was where work was. He was home. He took the elevator to his office. At the end of the day, he went back up. He did it every day of his life. Now his focus isn't work, but being president, so his attention is elsewhere.
Then again, a big part of being president for Trump, thus far, has also been escaping to places at or near golf courses on most weekends, including several trips to his Mar-a-Lago resort in Florida. It's likely, however, that Trump will try to hit midtown more often once the weather improves (and Mar-a-Lago closes for the summer), though he may opt for his New Jersey golf club more often than the city.
Of course, even though the president hasn't been back, there are still other members of the Trump family kicking around. The New York Police Department estimates that it costs between $127,000 to $146,000 a day to guard first lady Melania Trump and son Barron, who will both continue to live in Manhattan until Barron is finished with the school year. When Trump was still president-elect and staying in New York, it cost roughly $328,000 per day for the additional security that required, and the cost is likely to go up now that he'll be in town as the historically-unpopular President Trump. The business mogul's presence in New York from Election Day to Inauguration Day already cost the city an estimated $24 million, and it's not yet clear how much of that expense the city will be reimbursed for.
Eric Trump says his dad is aware of the traffic snarls his presence inevitably creates in New York, but that the president isn't that concerned about the costs of his trips, telling the AP that, "No, he feels great."
It's also not clear if the NYPD figures include the costs of protecting Eric and Donald Jr., who still run the Trump family business from the city.
Mayor Bill de Blasio, according to his spokesman, still disapproves of the protection costs but also says Trump is welcome to come back to the city "to feel and see the potential impacts on his hometown of some of these budget cuts he's talked about."
Another thing Trump may feel and see is how much New Yorkers continue to dislike him. Regular protests around Trump Tower are nothing new, but New York has also become one of the epicenters for large demonstrations against the new president since he took office, and it's not yet clear how New Yorkers will respond to the former developer's presidential visits, especially if they become a regular occurrence in the coming months.