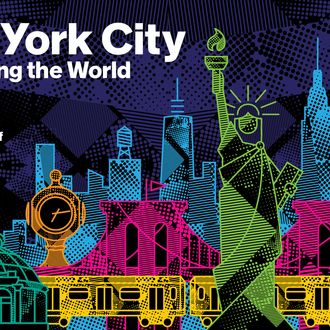 New York City's tourism industry has grown steadily since the recession. But the city in 2017 is facing its first potential — and pretty steep — decline in international tourism, courtesy of President Donald Trump and his administration's less-than-welcoming policies and rhetoric. Officials estimate that, as a result, 300,000 fewer international tourists will be gridlocking Times Square this year. That's going to add up: It could mean $600 million less in spending in the five boroughs, and New York City and the state could take a $120 million hit to tax revenue.
Chris Heywood, who helps lead global communications for the city's tourism board, NYC & Company, said the lower forecasts — which are based on a number of factors, including flight searches — are directly linked to Trump's tough talk, and, even if it's on hold, the travel ban. "It's created a considerable perception challenge," Heywood said. "[New York City] is the number-one port of entry. We have the most to lose."
Foreign travelers only make up about 20 percent of the 61 million tourists who visit New York City annually. But unlike Americans, they stay much longer and spend a bit more freely — an average of $2,000 each. Overall tourism is still expected to tick up by about a million visitors in 2017, but it's expected to be mostly domestic (a.k.a. thrifty) tourists.
So NYC & Company has launched a new campaign to try to head off these possible losses, one that's asking international visitors to, please, still vacation in Trump's hometown. The campaign's message is a slight dig at the president: "New York City — Welcoming the World." Ads like the one pictured above have already popped up in the United Kingdom and Mexico, and will soon launch in Germany and other parts of Western Europe. The campaign is designed to "counter negative rhetoric and remind the world that New York City is open for business," Heywood said, pointing out that the Statue of Liberty is front and center. It does not appear as if Trump Tower made the cut.