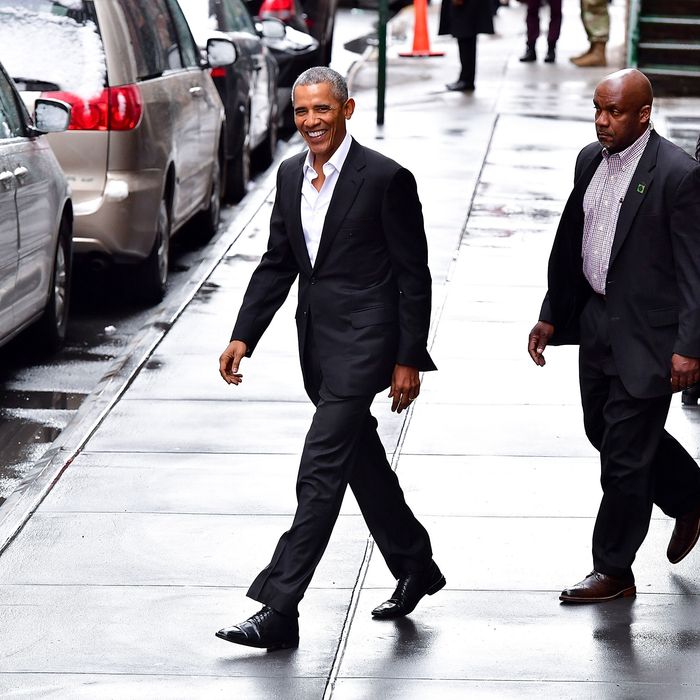 He's back.
Photo: James Devaney/GC Images
On Monday, President Obama's vacation ends.
Just over three months after handing President Trump the keys to the Oval Office, Obama will make the first public appearance of his post-presidency at the University of Chicago, where he'll meet with local college students and "hold a conversation on civic engagement and discuss community organizing," the Chicago Tribune reports.
It's the first of several planned events over the next few months for Obama, who quietly dipped a toe back into global politics this week with a phone call to centrist French presidential candidate Emmanuel Macron. Along with regular public and private speeches, Obama's upcoming schedule includes an award ceremony at the Kennedy Presidential Library and a date with Chancellor Angela Merkel at Germany's Brandenburg Gate.
Those hoping that an energized Obama will come out swinging at President Trump will be disappointed, according to the Times.
Even as he witnesses President Trump's relentless and chaotic assault on his legacy, Mr. Obama remains stubbornly committed to the idea that there is only one president at a time. Those closest to him say the former president does not intend to confront Mr. Trump directly on immigration, health care, foreign policy or the environment during any of his events.
Obama's hope, the paper adds, is to remain above the fray by addressing issues that are important to him but largely noncontroversial, including "civic engagement, the health of the planet, the need for diplomacy, civil rights and the development of a new generation of young American leaders."
It seems a safe bet that Obama won't talk about Trump at all. Like every other Democrat in the country, he surely has complaints about the president, but he is reportedly wary of giving Trump the high-profile foil he'd love so much.
But staying silent may be a challenge, especially if Obama is speaking frequently and Trump continues to provide ammunition for criticism. Remember, Obama left office saying he would only weigh in on political matters when "our core values may be at stake." A week later, he put out his first statement criticizing Trump.