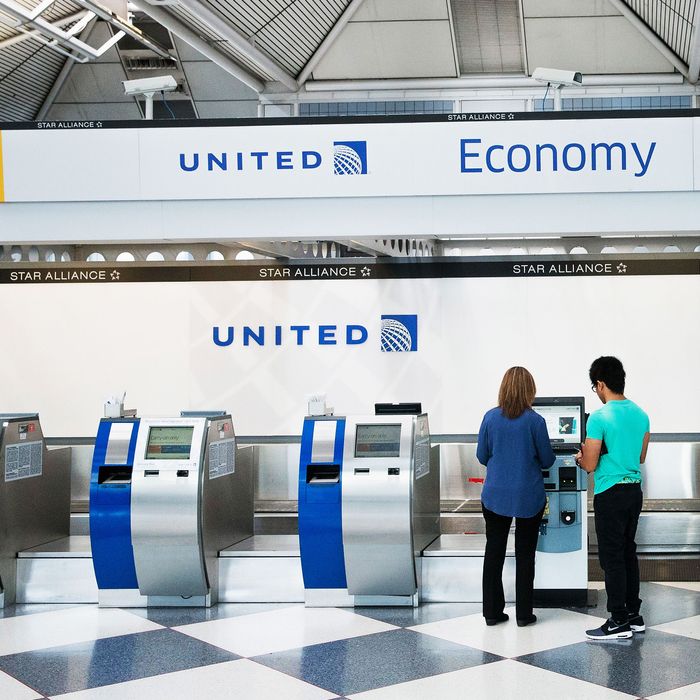 Photo: Scott Olson/Getty Images
Yesterday, a number of disturbing videos and pictures surfaced of an Asian man being dragged off an overbooked United flight from Chicago to Louisville, after he reportedly refused to give up his seat. United needed four seats to get crew members to Kentucky to work another flight, and had to randomly select passengers to kick off of the plane when nobody volunteered. (A system the airline calls the "involuntary denial of boarding process.") After being lifted from his seat and dragged down the aisle, the man ultimately returned to the plane, where he appeared bloody and —understandably — disturbed, standing in the back of the plane muttering "just kill me."
Following news of the incident, United CEO Oscar Munoz gave a short, unapologetic statement via the company's Twitter, calling it an "upsetting event," and describing what the security officers did as passenger reaccommodation. Later in the day, Munoz would defend the company in a lengthier letter sent to United employees.
From United, via the Chicago Tribune:
Dear Team,

Like you, I was upset to see and hear about what happened last night aboard United Express Flight 3411 headed from Chicago to Louisville. While the facts and circumstances are still evolving, especially with respect to why this customer defied Chicago Aviation Security Officers the way he did, to give you a clearer picture of what transpired, I've included below a recap from the preliminary reports filed by our employees.

As you will read, this situation was unfortunately compounded when one of the passengers we politely asked to deplane refused and it became necessary to contact Chicago Aviation Security Officers to help. Our employees followed established procedures for dealing with situations like this. While I deeply regret this situation arose, I also emphatically stand behind all of you, and I want to commend you for continuing to go above and beyond to ensure we fly right.

I do, however, believe there are lessons we can learn from this experience, and we are taking a close look at the circumstances surrounding this incident. Treating our customers and each other with respect and dignity is at the core of who we are, and we must always remember this no matter how challenging the situation.

Oscar
While Munoz doubles down on saying that the United Flight 3411 crew acted in the right, DNA Info reports that the unnamed security officer who dragged the man from the plane has since been suspended for his actions, and is facing a "thorough review of the situation." "The incident on United flight 3411 was not in accordance with our standard operating procedure and the actions of the aviation security officer are obviously not condoned by the Department," Karen Pride, a spokeswoman for the Chicago Aviation Department told DNA Info.
Munoz's letter also included a number of bullet points laying out the series of events, according to United, which led to the incident. Passengers were offered up to $1,000 to take a different flight, and when not enough people volunteered, United's computer system randomly selected passengers to remove, including the man who would later be dragged. "When we approached one of these passengers to explain apologetically that he was being denied boarding, he raised his voice and refused to comply with crew member instructions," Munoz wrote. Allegedly, the man became "more and more disruptive and belligerent" each time he was asked to get off of the plane. "Chicago Aviation Security Officers were unable to gain his cooperation and physically removed him from the flight as he continued to resist — running back onto the aircraft in defiance of both our crew and security officials," Munoz wrote. (This bullet point was the part where the man — his mouth dripping blood after being violently removed — stood in the back of the plane looking terrified.)
Yesterday, United also posted a new job listing. The company is looking for a brand public relations manager. Can't imagine why.