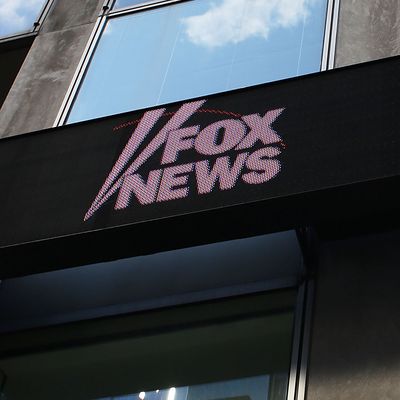 Photo: Spencer Platt/Getty Images
The Murdochs hoped firing Bill O'Reilly would signal a changing culture at Fox News. "We want to underscore our consistent commitment to fostering a work environment built on the values of trust and respect," Rupert and his sons, James and Lachlan, wrote in a memo to Fox News employees on Wednesday. But the dismissal of Fox News' highest-rated host isn't going to end the crisis at the network. The toxic culture, fostered for 20 years by former CEO Roger Ailes, is proving far more difficult to remedy.
Next week, according to sources, seven black Fox News employees plan to join a racial-discrimination suit filed last month by two colleagues. The original lawsuit alleged that Fox News' longtime comptroller, Judy Slater, subjected members of Fox's payroll staff to racial insults for years. (Fox News fired Slater in February after those employees began litigation against the network.)
Lawyers representing the payroll employees are demanding that Fox's accounting director, Tammy Efinger, also be removed from supervising an employee because she allegedly participated in Slater's racist behavior. In a letter to the network's lawyers obtained by New York, the attorneys state: "Not once did Ms. Efinger step in or attempt to interfere with Ms. Slater's outrageous conduct." The letter adds, instead, "Ms. Efinger chose to laugh or giggle following Ms. Slater's vitriol."
The letter also includes new allegations of racism in Fox News' accounting department. According to the plaintiffs' attorneys, Slater demanded that black female employees hold "arm wrestling matches'" with white female employees in her office, just down the hall from Ailes's office on the second floor of Fox headquarters. "Forcing a black woman employee to 'fight' for the amusement and pleasure of her white superiors is horrifying. This highly offensive and humiliating act is reminiscent of Jim Crow era battle royals," the letter says, referring to the practice of paying black men to fight blindfolded at carnivals for white spectators' entertainment. The lawyers argue that Efinger bragged about wanting to "fight" a black employee.
The new claims, if true, reveal not just the failures of the legal and HR departments to deal with problematic managers but also just how deep the culture of discrimination and harassment may have run during Ailes's reign.
Reached for comment, an attorney representing the employees, Jeanne Christensen, said, "There will be more complaints forthcoming in the next few days."
A Fox News spokesperson said: "We can't comment on a lawsuit that we haven't seen yet."
Bill O'Reilly has made some remarkably sexist comments on the air.