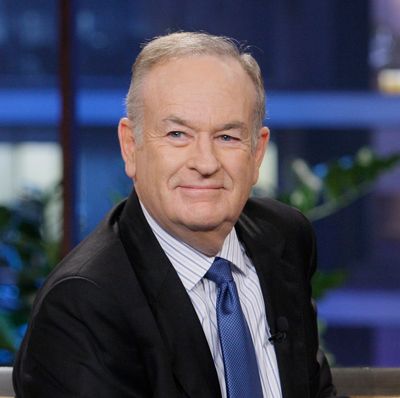 Bill O'Reilly on the Tonight Show in 2013.
Photo: NBC/NBCU Photo Bank via Getty Images
Bill O'Reilly returned from vacation on Monday night, but in a much different venue than he anticipated when he signed off of his Fox News show on April 11. Five days after he was fired from the network over allegations of sexual harassment, O'Reilly addressed the controversy in a podcast posted on his personal website. "I am sad that I'm not on television anymore," O'Reilly said. "I was very surprised how it all turned out."
O'Reilly's podcast, The No Spin News, has been available to his website's subscribers since 2009. New episodes, which air Monday through Thursday, will be free to download this week.
During Monday night's 19-minute episode, O'Reilly said he intends to turn the podcast "into a genuine news program." The broadcast included a discussion of President Trump's poll numbers, attacks on the mainstream press, and a dig at Senator Elizabeth Warren. This is how he addressed his firing from Fox News:
I am sad that I'm not on television anymore. I was very surprised how it all turned out. I can't say a lot, because there's much stuff going on right now.

But I can tell you that I'm very confident the truth will come out, and when it does, I don't know if you're going to be surprised — but I think you're going to be shaken, as I am. There's a lot of stuff involved here.

Now, I can't say any more because I just don't want to influence the flow of the information. I don't want the media to take what I say and misconstrue it. However you, as a loyal O'Reilly listener, have a right to know, I think, down the lane what exactly happened. And we are working in that direction, okay?
It's unclear why O'Reilly felt he couldn't say more. As the Washington Post notes, the sexual-harassment lawsuits against O'Reilly have been settled, and presumably his $25 million severance package bars him from suing Fox News.
O'Reilly has insisted that the harassment allegations were all unfounded. His attorneys claimed he was the victim of a "smear campaign" that was "orchestrated by far-left organizations," and they said they had evidence to prove it. As we learned from strategy emails the O'Reilly team accidentally forwarded to a Politico reporter last week, they considered telling the Murdochs about a conference call the liberal watchdog group Media Matters and Democratic fundraiser Mary Pat Bonner were coordinating to discuss their effort to pressure advertisers to pull out of his show.
Media Matters had discussed the campaign with media outlets. "Nothing nefarious here," the organization's president, Angelo Carusone, said in a statement last week. "Media Matters' efforts were very public. We're a nonprofit and the call was to ask our supporters to help make sure we could dig in on this for the long haul. But O'Reilly got fired beforehand."
Meanwhile on Monday night, Fox News continued its awkward wrap-up of the O'Reilly era. Tucker Carlson offered praise for the former King of Cable News as he took over his 8 p.m. ET time slot for the first time.
"I watched Bill O'Reilly at this hour for years, and I always marveled at how well-prepared he was, how tough he was, and how crisply and directly he expressed his views," Carlson said. "What O'Reilly did was not easy. He set a high bar, and I'm going to do my best to meet it. Thanks for sticking with us."