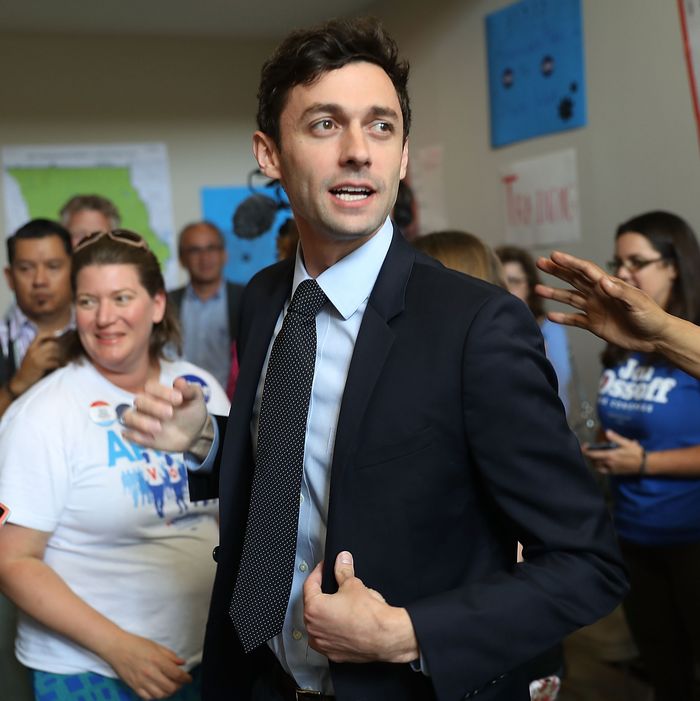 Jon Ossoff speaks to volunteers and supporters at a campaign office on April 18, 2017, in Marietta, Georgia.
Photo: Joe Raedle/Getty Images
National Democratic heartthrob Jon Ossoff finished first in Tuesday's special election to fill the Georgia congressional seat vacated by new Health and Human Services secretary Tom Price. While that's an impressive feat for a Democrat running in a traditionally red district like Georgia's 6th, Ossoff fell short of his goal of winning the seat outright with a majority of the vote. Instead, he'll face veteran GOP candidate and former Georgia secretary of state Karen Handel in a June 20 runoff.
With 18 candidates in the race, Ossoff benefited from united Democratic support, and a reported $8.3 million fundraising haul (mostly from out-of-state donors). Ossoff took a solid majority of the 55,000 in-person early votes cast in the race, but after a long delay in counting the final batch of ballots thanks to some technical difficulties, he finally dipped below 50 percent. Ossoff ultimately won 48.1 percent of the vote, with Handel at 19.8 percent.
That puts Ossoff slightly ahead of the 46.8 percent Hillary Clinton won in the district last November, itself a large increase over Barack Obama's 37.5 percent. Ossoff's vote is almost exactly at the level where FiveThirtyEight's Nate Silver gave him even odds of winning (or losing) a runoff. He took all but one percent of the vote secured by Democratic candidates, which means that Republicans as a whole won a narrow majority. And perhaps more significantly, Georgia Democrats historically have a poor record in two-party runoff elections (for example, Democrat Jim Martin lost to Republican Saxby Chambliss by nearly 15 points in a 2008 Senate runoff).
There are three key questions that will be answered in the runoff campaign:
1) Will the dashed expectations of a knockout punch tonight produce a major fall-off in fundraising and enthusiasm for Ossoff, who will now have to share the spotlight (and the money solicitations) with other 2017 and 2018 candidates? In other words, did he miss his one shot at victory?
2) Can Handel, who was the target of negative ads from two GOP opponents and from the Club for Growth, unite Republicans and turn them out on June 20? She's had a shaky record as a fundraiser, and hasn't won an election since 2006. Will partisanship ultimately be the only thing that matters here?
3) Will the national political dynamics, which revolve around an unpredictable and not very popular president of the United States, change between now and June 20?
Donald Trump will probably help answer that last question if he gives Ossoff voters, donors, and volunteers fresh reason for outrage by gloating excessively. He already claimed that avoiding outright defeat by just two points was a big Republican win:
It is probably worth noting that the 6th district candidate who tried hardest to brand himself as a Trump loyalist, Bob Gray, finished a distant third.
While Republicans may have dodged a bullet again tonight — as they did last week in the special election to fill CIA Director Mike Pompeo's old seat in Kansas — they really have no reason to gloat. As Garance Franke-Ruta noted, Ossoff improved on the prior Democratic House vote in Georgia's 6th district by the same margin Democrat James Thompson achieved in Kansas a week ago. If that trend holds, it could easily produce a Democratic House in 2018.