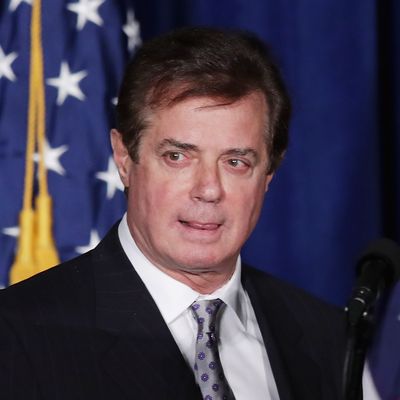 Paul Manafort.
Photo: Chip Somodevilla/Getty Images
Days after he was essentially replaced by Steve Bannon last August, Trump campaign manager Paul Manafort stepped down amid reports that he failed to properly disclose his work for former Ukranian president Viktor Yanukovych to the U.S. government, which is illegal. Around the same time, claims emerged that Manafort's name appeared 22 times in handwritten ledgers that tracked cash payments from Yanukovych's pro-Russia political party between 2007 and 2012.
Since then, the scrutiny of Manafort's business dealings and his connection to pro-Russian political figures in eastern Europe has only intensified, and now Manafort has realized that he should probably register as a foreign agent.
Manafort's spokesman, Jason Maloni, said he will register with the Justice Department after receiving "formal guidance recently from the authorities" regarding his years of work for Ukrainian politicians. Maloni emphasized that the work "was not conducted on behalf of the Russian government."
Manafort will be the second top Trump adviser to retroactively disclose work that may have benefited a foreign government. Last month, former National Security Adviser Michael Flynn registered work that "could be construed to have principally benefited the Republic of Turkey," which was conducted as he was advising the Trump campaign.
It's common for the Justice Department to work with those who violate the Foreign Agent Registration Act rather than prosecuting them, but that's just a small part of Manafort's potential legal headaches. While he initially claimed the ledger listing $12.7 million in illegal off-the-books payments was fake, on Wednesday the AP confirmed that Manafort's consulting firm received at least $1.2 million of that money.
Manafort acknowledged the payments, but suggested they were legal because they were not made in cash. "Mr. Manafort has always denied that he ever received any cash payments for his work and has consistently maintained that he received all of his payments, for services rendered, through wire transfers conducted through the international banking system," he said in a statement.
And there's more. On Wednesday, the New York Times reported that on the day he left the Trump campaign, Manafort created a shell company that received $13 million in loans from two businesses with ties to Trump. One firm was led by a Trump economic adviser and the other was backed by a Ukrainian-born billionaire who is now an American citizen. Manafort and his wife ultimately secured $20 million in loans, which appear to be "part of an effort by Mr. Manafort to stave off a personal financial crisis stemming from failed investments with his son-in-law," according to the Times.
Aside from questions about his already-murky financial dealings, Manafort is also dealing with probes into his potential ties to Russia. In February, the Times reported that Manafort was one of the Trump campaign officials whose contacts with senior Russian intelligence officials are being examined by U.S. intelligence. Manafort has not been charged with a crime, and he says he's never had anything to do with the Russian government.