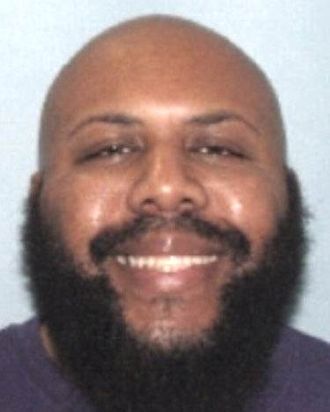 Undated photo of Steve Stephens.
Photo: Cleveland Police
Police are searching for a man suspected of filming himself killing an elderly man in Cleveland, Ohio, on Easter Sunday, then posting the video on Facebook. The man claimed to have killed dozens of other people, and police are warning residents in Pennsylvania, New York, Indiana, and Michigan to be vigilant. "He is considered armed and dangerous, so we want people to be careful out there," said Cleveland Police Chief Calvin Williams.
Police say Steve Stephens, 37, fatally shot 74-year-old Robert Godwin Sr. around 2 p.m. in a residential area of Cleveland. It appears Godwin, who was walking home from Easter dinner with his family, was randomly targeted.
Video posted to Facebook shows Stephens approaching Godwin, and telling him to say a woman's name. "She's the reason that this is about to happen to you," Stephens says. According to CNN, Stephens then shoots Godwin in the head. The video below shows some of the footage posted to Facebook, but the shooting is edited out.
Several people saw the video and reported it to the police. They initially said the shooting was broadcast on Facebook Live, but later the company said it was recorded and then uploaded to the site. The video and Stephens's page have been disabled.
"We do not allow this kind of content on Facebook. We work hard to keep a safe environment on Facebook, and are in touch with law enforcement in emergencies when there are direct threats to physical safety," said a Facebook spokesperson.
In other posts, Stephens claimed that he killed up to 15 people, and called it his "Easter day slaughter." Police have no knowledge of other victims.
Stephens's mother, Maggie Green, told CNN that he visited her on Saturday and told her it would be the last time she ever saw him. "If you see me again, it'll be a miracle," he said.
The shooting occurred near Interstate 90 and police said on Sunday night that Stephens could be out of the state by now. He was described as a black male who is six-foot-one and 244 pounds. He was last seen wearing a dark-blue-and-gray or -black striped polo, and driving a white Ford Fusion with temporary license plates.
On Facebook, Stephens said he "lost everything" to gambling, and expressed anger toward his longtime partner, Joy Lane, and several family members. Lane spoke to CBS News via text message.
We had been in a relationship for several years. I am sorry that all of this has happened. My heart & prayers goes out to the family members of the victim(s). Steve really is a nice guy … he is generous with everyone he knows. He was kind and loving to me and my children. This is a very difficult time for me and my family Please respect our privacy at this time.
Cleveland mayor Frank Jackson urged Stephens to turn himself in and not "do any more harm to anybody." He added, "Any problems he is having, we can have a conversation."
The victim's family said they're in disbelief. "He is a good guy," Godwin's son told WOIO. "He'd give you the shirt off his back, and I'm not just saying that for these cameras."