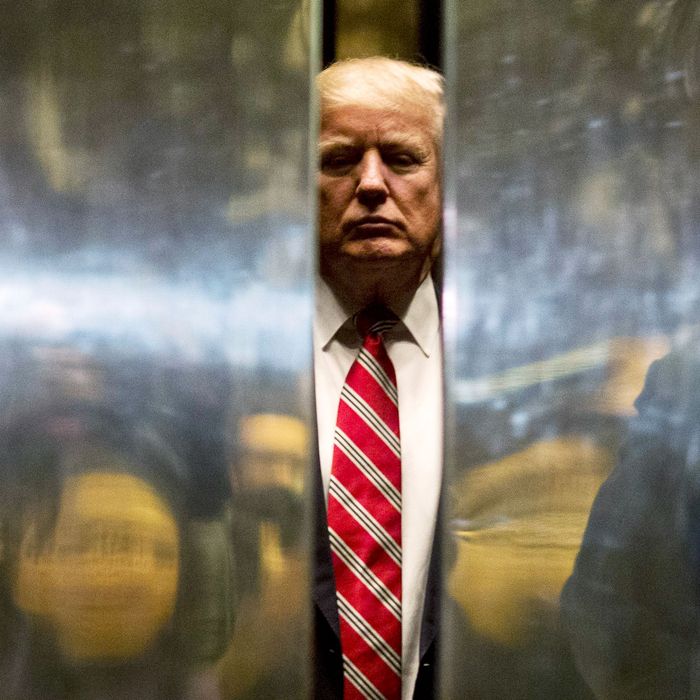 Miss me?
Photo: Dominick Reuter/AFP/Getty Images
Mar-a-Lago gets a break next week. Donald Trump is reportedly coming to New York on May 4, his first trip back to his hometown as president.
While in town, he will host Australian prime minister Malcolm Turnbull. The two leaders will meet in person for the first time, and hopefully it can not go any worse than their introductory phone call in January, when Trump bragged about his Electoral College victory and insulted a staunch ally by calling an Obama-era agreement to resettle refugees "the worst deal ever."
Trump will meet with Turnbull aboard the U.S.S. Intrepid, the museum née aircraft carrier on the Hudson River. Together they will commemorate the 75th anniversary of the 1942 Battle of the Coral Sea, the first air-sea battle of World War II, where allied U.S. and Australian forces achieved a strategic victory over Japan.
Of course, a lot has happened since New York City and the Donald last saw each other. Though First Lady Melania and Barron are living in Trump Tower until at least the end of the school year, protests near the Fifth Avenue building are now something of a regular occurrence. The city is still spending between $127,000 and $146,000 a day to protect the First Lady and their son, and the cost jumps about double when President Trump is in town, to a little more than $300,000 per day.
Meanwhile, the Trump administration has threatened to withhold federal funding because of New York's status as a so-called "sanctuary city." A federal court has put that move on hold, but Trump will have to face a hometown he bigly insulted when his Justice Department described New York — America's safest big city, with record-low murder and violent-crime rates — as "soft on crime."