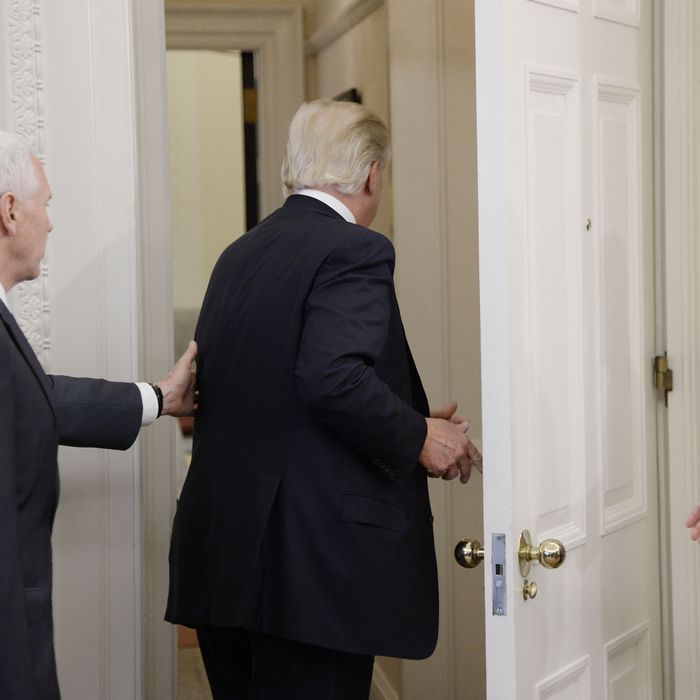 A no-sign of tumultuous White House times.
Photo: Olivier Douliery/Pool/Getty Images
President Trump walked out of an executive-order signing ceremony on Friday without actually doing any of the intended signing. The bizarre moment, which included Vice-President Pence and other administration staff calling after the quickly departing Trump to remind him about the still-unsigned orders, was of course captured by the press assembled for the ceremony. After Pence delivered remarks in praise of Trump and the two orders, which the White House says will prevent foreign-trade abuse, Trump then insisted that "you're going to see some very, very strong results very, very quickly," but quickly left the room, seeming to forget about the unsigned orders meant to provide those results.
As he walked out, Trump ignored a question from CBS News reporter Major Garrett about whether or not he had tried to get the Justice Department to grant immunity to former national security adviser Michael Flynn in exchange for Flynn's testimony about the Trump administration's ongoing Russia scandal. After Trump had left, Pence finally got the president's attention, and Trump beckoned for the orders to be brought to him to sign elsewhere. Pence then hastily collected the orders, and followed Trump out of the room. Reporters then asked Chief White House Strategist Steve Bannon if the orders had been pre-signed, but he remained stone-faced:
It's not clear if Trump was just being absentminded or if he was seeking to spend as little time in front of the media as he had to. Trump did eventually sign the orders and was back to tweeting complaints about press coverage on Saturday morning. Later on Saturday, likely in response to all the reports about his aborted ceremony, Trump also retweeted a closely cropped photo of him signing the orders (someplace else).
He did not retweet this: