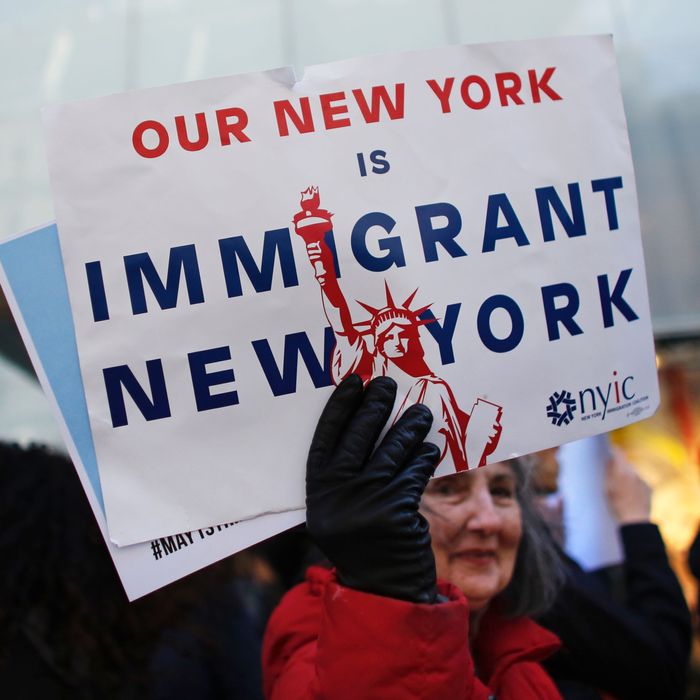 The administration wants to punish cities that don't act as agents for federal immigration authorities, and may even be willing to risk a government shutdown to do it.
Photo: Kena Betancur/AFP/Getty Images
As Congress enjoys its Easter recess, we're drawing ever closer to the April 28 expiration date on the appropriations bill keeping the federal government funded. We keep hearing assurances from congressional leaders that avoiding a government shutdown will be a snap. House Speaker Paul Ryan has been the most definitive about this, suggesting that the GOP intends to keep some of the most controversial provisions — like money for the border wall and the defunding of Planned Parenthood — out of the appropriations bill.
But even if the potential "poison pills" Ryan talked about are disposed of or deferred, another one has suddenly appeared. Politico reports that Mick Mulvaney, the director of the Office of Management and Budget, is pushing congressional Republicans to include language in the bill that would restrict federal funding grants for so-called "sanctuary cities," or municipalities that refuse to enforce federal immigration policies.
It seems Mulvaney is worried about keeping House Freedom Caucus members onboard with the appropriations measure, and thinks going after godless coastal cities that don't cooperate with Immigration and Customs Enforcement will appease conservatives. That may well be true, but it's hard to imagine Democrats going along, and Republicans will need a handful of votes from the left to avoid a government shutdown.
There is probably another reason the Trump administration would really like to see some legislation authorizing the penalization of sanctuary cities enacted into law. As Roger Parloff explained, in January, Trump signed an executive order empowering the attorney general and secretary of Homeland Security to take funding from sanctuary cities, and now it's cruising for a legal bruising in the courts:
[T]he sanctuary-cities order … appears to offend the principles of separation of powers, due process, and interpretations of both the Tenth Amendment (establishing that the federal government only has powers specifically delegated to it by the Constitution) and limits on Congress's spending power that have been mainly championed by conservative justices — including President Trump's own claimed judicial hero, Antonin Scalia.
Since the secretary of Homeland Security has yet to issue the formal designation of sanctuary cities deserving punishment, lawsuits to stop the action have been stalled, but not abandoned. Getting a congressional measure to authorize the withholding of funds would help (though not entirely cure) the legal problems.
It's anybody's guess whether Mulvaney is bluffing, trying to curry favor with troublesome conservatives, or obeying a diktat from his boss. But in any event, this is the last thing Congress needs if it is indeed trying to quickly pass a stopgap appropriations bill without a lot of yelling and screaming and terrorizing of bureaucrats and contractors worried about their next paychecks.