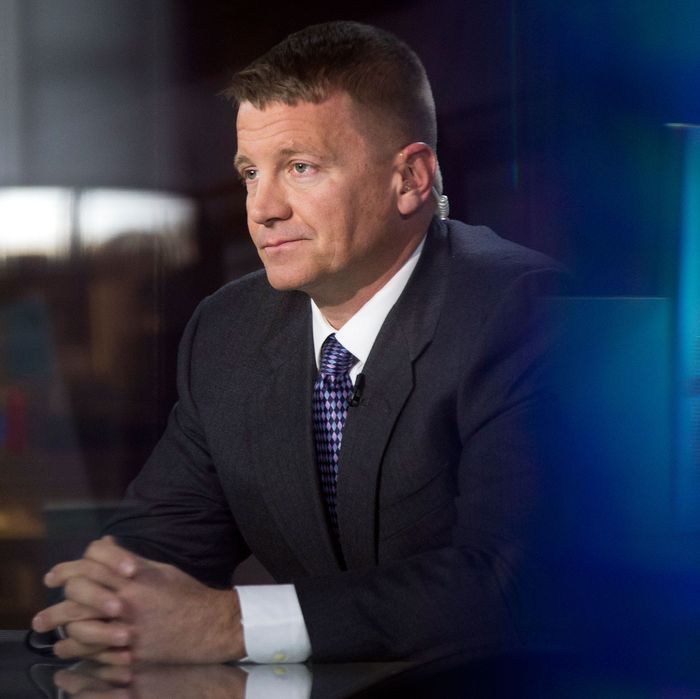 The Washington Post reports that Erik Prince met with an associate of Vladimir Putin in January to negotiate a Russian split with Iran, perhaps in exchange for easing U.S. sanctions.
Photo: Andrew Harrer/Bloomberg via Getty Images
The Washington Post is reporting that Erik Prince, the founder of the Blackwater USA security empire (which he sold in 2010, around the time he decamped to the United Arab Emirates), held a super-secret meeting in the Seychelles islands a couple of months ago with someone purporting to represent the Russian government:
The United Arab Emirates arranged a secret meeting in January between Blackwater founder Erik Prince and a Russian close to President Vladi­mir Putin as part of an apparent effort to establish a back-channel line of communication between Moscow and President-elect Donald Trump, according to U.S., European and Arab officials.
The meeting took place around Jan. 11 — nine days before Trump's inauguration — in the Seychelles islands in the Indian Ocean, officials said. Though the full agenda remains unclear, the UAE agreed to broker the meeting in part to explore whether Russia could be persuaded to curtail its relationship with Iran, including in Syria, a Trump administration objective that would likely require major concessions to Moscow on U.S. sanctions.
The Seychelles, you see, is a favorite vacation spot for UAE potentates and Russian "entrepreneurs." It's well-known for its golf courses. And now for its intrigue:
Though Prince had no formal role with the Trump campaign or transition team, he presented himself as an unofficial envoy for Trump to high-ranking Emiratis involved in setting up his meeting with the Putin confidant, according to the officials, who did not identify the Russian.
Prince was an avid supporter of Trump. After the Republican convention, he contributed $250,000 to Trump's campaign, the national party and a pro-Trump super PAC led by GOP mega-donor Rebekah Mercer, records show. He has ties to people in Trump's circle, including Stephen K. Bannon, now serving as the president's chief strategist and senior counselor.
Prince has long been a favorite source for the folks at Breitbart. And, as you may know, his sister Betsy DeVos happens to be a member of Trump's cabinet.
Prince and White House Press Secretary Sean Spicer have denied there was any connection between whatever was going on in the Seychelles and the Trump transition operation. But the question must be asked: If you were an intimate of Vladimir Putin and your Arab buddies hooked you up with someone with Prince's background and connections right around the time Donald Trump was forming his administration, what would you think? You'd have to buy an awful lot of coincidences to conclude there was nothing more important in the works that some private security deal — and maybe some golf and sunbathing.