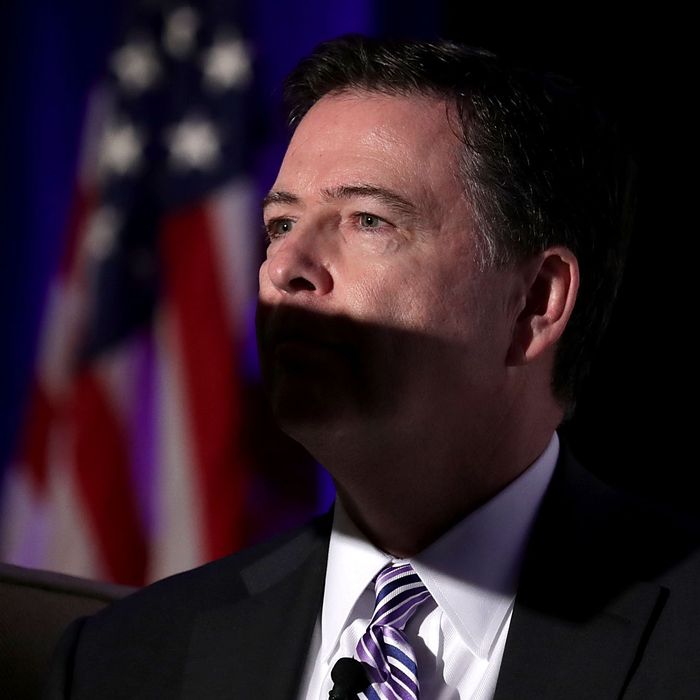 A massive report on how Comey handled two crucially important investigations during last year's presidential campaign contains some maddening new details.
Photo: Chip Somodevilla/Getty Images
The New York Times, following an extensive investigation into the conduct of FBI director James Comey over the course of last year's U.S. presidential election, reports that President Obama rejected Comey's proposal to publish a late-summer op-ed announcing that Russia was trying to undermine the vote. According to the report, after it became clear to the FBI that Russia was attempting to intervene, Comey wanted to "inoculate" American voters from that possible influence by alerting them in an op-ed that the Russian meddling was happening — though he did not plan to announce that members of the Trump campaign were also under investigation with regards to the issue.
President Obama, according to the Times' sources, thought that acknowledging Russia's attempted interference would not counteract their influence, but magnify it, causing American voters to doubt the election's legitimacy. Then-candidate Donald Trump was already loudly and frequently claiming, without evidence, that the election was rigged, and the White House did not want to be seen as stepping in on behalf of Democratic candidate Hillary Clinton.

Obama shot down the op-ed plan, but the administration did not permanently dismiss the idea of alerting Americans to Russia's interference, they just decided the first news of it shouldn't come from Comey, on his own in the press, before a formal intelligence assessment could be completed. Comey, having already created an election controversy by publicly shaming Clinton earlier in the summer over her use of a private email server while secretary of State, apparently thought he was uniquely credible to discuss the Russian efforts.

But then, in early October when the Obama administration revisited the idea making a public statement about Russia's meddling, Comey objected, saying it would politicize the FBI to sign on to an official assessment so close to Election Day. "Officials in the room felt whiplashed," according to the Times, but since Russia's meddling was a national news story by that point, Comey apparently no longer felt it necessary to speak about it himself.
Obama administration officials and Comey would differ again, later that month, when Comey, in an extraordinary breach of Justice Department protocol, decided to publicly announce that the then-closed investigation into Hillary Clinton's use of her private email server was being reopened, less than two weeks before Election Day. What was different in that case, according to Comey and his associates, was that the FBI director had promised Congress he would update them on any further developments.
After a new collection of emails sent using Clinton's server were discovered during an unrelated investigation, Comey apparently felt he had to reopen the investigation and send a letter to Congress, regardless of the unprecedented timing or how it was not yet clear if those emails were, in fact, new to investigators. Comey and his advisers seem to have believed that Clinton would win the election and that their nondisclosure of the new emails, if new evidence was indeed discovered, would have caused permanent damage to the FBI. Explained Michael B. Steinbach, the agency's former senior national security official, to the Times:
So what happens after [Clinton wins], in November or December? How do we say to the American public: "Hey, we found some things that might be problematic. But we didn't tell you about it before you voted"? The damage to our organization would have been irreparable.
Of course, the newly discovered emails were ultimately not new to investigators and the investigation was re-closed and Clinton re-cleared right before the election, but the damage was done. Comey's announcement resulted in a measurable decline in Clinton's support, according to some political scientists, and the Clinton campaign has cited the Comey letter as the primary reason they lost the election, but not everyone agrees with that assessment.
Though he was asked by lawmakers both publicly and privately to do so over the last few months of last year's presidential campaign, Comey did not publicly confirm the FBI's investigation into Trump campaign officials' possible collusion with Russia until March, reportedly because he and others at the FBI did not want to compromise an ongoing investigation.