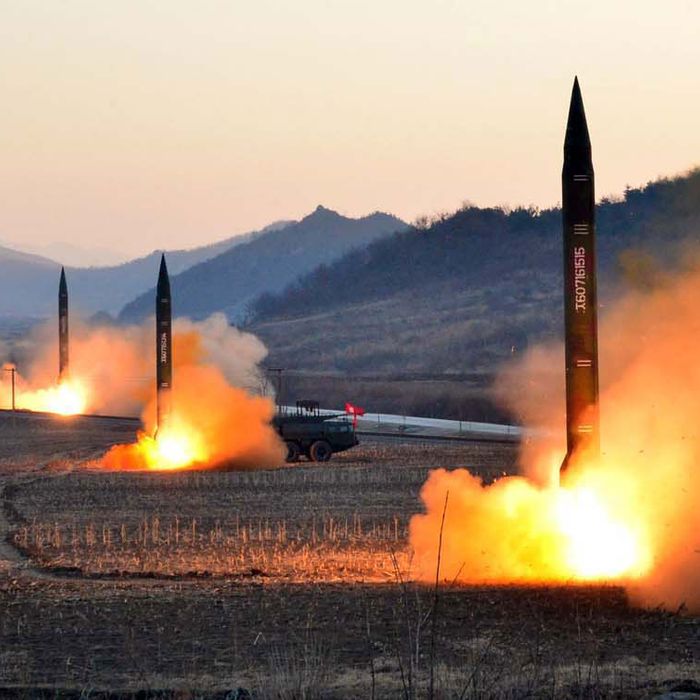 This undated picture released by North Korea's Korean Central News Agency (KCNA) via KNS on March 7, 2017, shows the launch of four ballistic missiles by the Korean People's Army (KPA) during a military drill at an undisclosed location in North Korea.
Photo: STR/AFP/Getty Images
Tensions between North Korea and the United States continue to escalate over Kim Jong-un's weapons program. The two countries have exchanged threats and barbs, but now the Pentagon is reportedly weighing a plan to shoot down North Korean test missiles. The Guardian reports that Secretary of Defense James Mattis has briefed Congress about this potential option, a way for the United States to flex its muscle, particularly if Kim embarks on his sixth nuclear test.
Officials told The Guardian that any attempt to shoot down a North Korean missile would likely come from an Aegis missile-defense system aboard a U.S. Navy destroyer. The aircraft carrier the U.S.S. Carl Vinson, which is equipped with such a missile-defense system, is finally bound for the waters off the Korean peninsula (following a strange snafu) and is expected to arrive there by the end of April.
How the mercurial Kim would respond to the U.S. shooting down its missile is obviously the riskiest element of such a plan — particularly if the North Korean leader interprets this as a provocation. A North Korean official said Monday that the country was ready to "react to any mode of war desired by the United States."
The United States has matched North Korea with tough talk. Vice-President Mike Pence said while meeting with regional allies that the era of "strategic patience is over." He warned, too, that when it came to North Korea "all options were on the table."