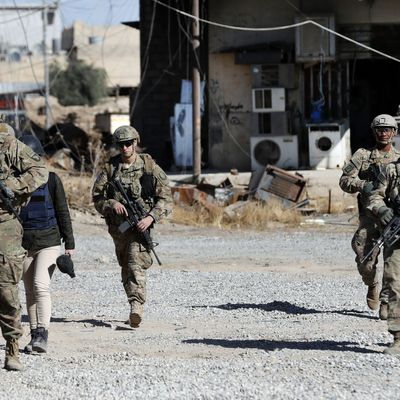 Here comes trouble.
Photo: Thomas Coex/AFP/Getty Images
Ever since the United States put the fate of the world in the hands of an ill-tempered reality star, people have sought comfort in the thought that Donald Trump might outsource his administration's most important decisions to the "adults" in the room.
This was a reasonable hope. But it was also one that elided a troubling fact: Nearly all the "adults" in the Trump administration are men who make war for a living.
On Thursday, one week after Trump ordered a missile strike against the Assad regime, the United States hit Afghanistan with the largest non-nuclear bomb ever deployed. When the commander-in-chief was asked to explain the rationale for this unprecedented use of force, he replied, "What I do is I authorize my military."
"So, we have given them total authorization," Trump continued.
Our future is up to the generals. Here, according to Bloomberg's Eli Lake, is what the generals are up to:
Senior White House and administration officials tell me Trump's national security adviser, General H.R. McMaster, has been quietly pressing his colleagues to question the underlying assumptions of a draft war plan against the Islamic State that would maintain only a light U.S. ground troop presence in Syria. McMaster's critics inside the administration say he wants to send tens of thousands of ground troops to the Euphrates River Valley. His supporters insist he is only trying to facilitate a better interagency process to develop Trump's new strategy to defeat the self-described caliphate that controls territory in Iraq and Syria.

…The White House and administration officials say Secretary of Defense James Mattis, Chairman of the Joint Chiefs of Staff Joseph Dunford and General Joseph Votel, who is in charge of U.S. Central Command, oppose sending more conventional forces into Syria. Meanwhile, White House senior strategist Stephen Bannon has derided McMaster to his colleagues as trying to start a new Iraq War, according to these sources … White House and administration officials familiar with the current debate tell me there is no consensus on how many troops to send to Syria and Iraq. Two sources told me one plan would envision sending up to 50,000 troops.
"We're not going into Syria," Trump assured Fox Business earlier this week. But, according to Lake, the president has yet to hear from his advisors, who want to reach consensus around a plan to defeat ISIS before presenting it to the president. So, the adults may yet change his mind.
After all, what Trump does, is he authorizes his military.