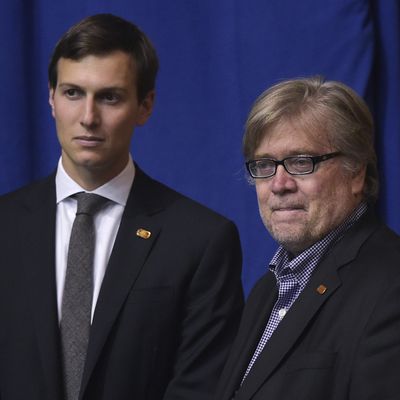 A long time ago, they used to be friends …
Photo: Mandel Ngan/AFP/Getty Images
The Syrian civil war isn't the only conflict that President Trump has abruptly decided to intervene in this week: On Thursday, Trump ordered two rival White House factions to hash out a peace deal after numerous media reports indicated that members of the Trump administration — led by Trump's multitasked advisor and son-in-law, Jared Kushner — were openly fighting with White House strategist Steve Bannon and his rival turned ally, Chief of Staff Reince Priebus. "You guys are close. Knock it off," and "work this out," Trump reportedly told the factions on Thursday after growing tired of hearing about the feud in the press.
The resulting Mar-a-Lago meeting on Friday, organized by Priebus and attended by Bannon, Kushner, and according to one report, Ivanka Trump, was apparently a success, per anonymous White House officials cited in news reports on Saturday. The rivals agreed to "bury the hatchet" after Priebus advised them to "stop with the palace intrigue" and work out their differences in private. How long that peace will hold — assuming an understanding was actually reached — is not clear.
Of course, that Trump grew annoyed enough with the conflict to involve himself is itself news, since fostering infighting, chaos, and ruthless competition is the closest thing to a management philosophy the president has. But the rivalry did certainly get a lot of media attention, as White House leakers representing the factions clearly intended, and the negative coverage is reportedly what convinced Trump to get involved. There were even reports, which the White House has denied, that the president was considering a shake-up of his top staff — starting with firing the perpetually on-the-bubble Priebus and maybe even Bannon — if internal relations didn't improve.
According to Axios, the emergency summit thawed some of the ice:
The meeting was "100 percent" focused on moving the president's agenda, said one source. But the subtext was clear: The boss wanted them to make up and disarm. Although he had been considering changes on his top staff (and names of possible replacements had circulated among senior aides), they were being given the chance to fix it themselves.
But earlier on Saturday, Axios's Mike Allen also reported that a new, more-centrist White House philosophy was on the way, too. That ethos, espoused by Kushner and Ivanka and supported by the suddenly "with the program" Priebus, would be to embrace a more inclusive and open method of running the administration in order to focus on President Trump's best interests rather than ideology — and one "top source" said Bannon would be gone if he didn't get onboard with the new culture. Elsewhere, Politico reported that Priebus was still working with Bannon to prevent just such a shift. (As is always the case with the leaky Trump administration, the only consistently easy conclusion is that things are not running smoothly.)
Responding to Allen's report about where Kushner and Ivanka want to take the administration, Talking Points Memo's Josh Marshall acknowledged that "personal political interest is always in tension with ideology for every politician," but he also senses a familiar pathology at work:
It goes to the heart of the Family, Brand-driven, Kleptocratic nature of the Trump White House. The core aim is for the President to be popular, to succeed, a goal in key ways even more important to the thirty-something Kushner/Trumps than the 70 year old President. Politics or policy and ideology, whatever you want to call it, is changeable and secondary, just as Trump can shift from authoritarian isolationist to faux values driven internationalist in a day and a half. This is precisely what you'd expect from people who were probably apolitical or perhaps, if pushed, something like Bloomberg Democrats and then became executors of a far-right, blood and soil, racist nationalist political program. Words and policy have no meaning. What matters is protecting and maximizing the value of the new family acquisition: the presidency.
If that's the true aim, it's unlikely the fiercely ideological Bannon will play along, and indeed it's not clear that he'll even try to tolerate the Kushner/Ivanka-proposed future. Also on Saturday, NBC News reported that sources close to the nationalist Bannon say he "ain't going anywhere," and one said that the former Breitbart executive is still insisting that "Democrats," as in Kushner and economic policy adviser Gary Cohn, "will never run the White House." According to the New York Times and Axios, Bannon and his allies are also still working to convince the president that centrism will just alienate his base, and that will mean his electoral ruin because Democrats will never support him.
However, it's probably safe to assume that another thing that will never happen is Bannon or anyone else winning a total war for the president's approval and attention if their opponents are Trump's daughter and wonderkid son-in-law.
Then again, it's also not clear where the impulsive president will stand on any of this himself, especially after Fox and Friends weighs in, and this is far from the first time a Trump pivot to the center has been teased.
In the meantime, the latest update, as far as Saturday's reporting indicates, is that neither Priebus nor Bannon will be leaving the possibly center-shifting administration — at least not yet — and the warring factions have agreed to try and smooth things over rather than redraw the inner circle. "The only thing we are shaking up is the way Washington operates," the presumably straight-faced White House spokesperson Sarah Huckabee Sanders promised in a statement released on Friday. As far as how the Trump administration operates, any change will have to be seen to be believed.