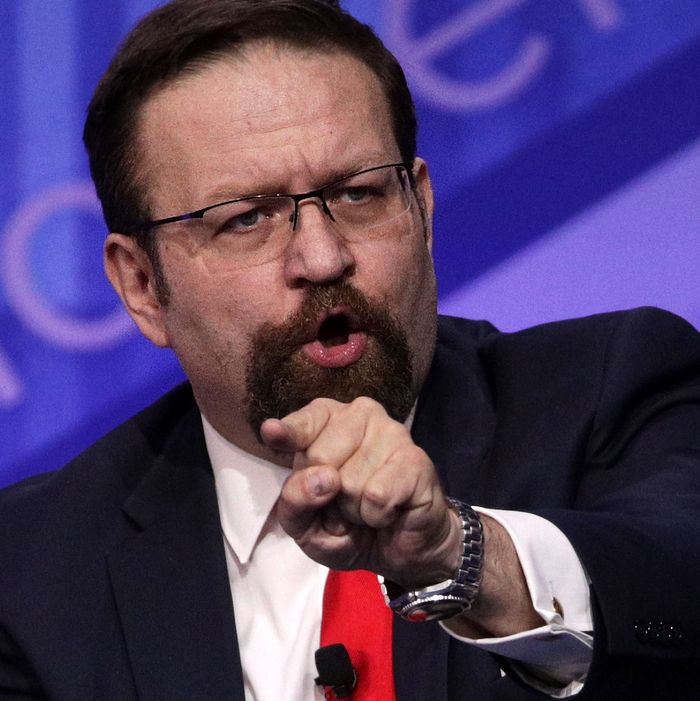 Sebastian Gorka.
Photo: Alex Wong/Getty Images
National security adviser Sebastian Gorka is leaving the White House, according to sources who spoke with the Washington Examiner and later confirmed by CNN's Jim Acosta. Gorka is an especially shady and controversial character, even for the Trump administration, as he has been linked to an anti-Semitic far-right party in Hungary with Nazi roots. The Examiner reports that Gorka will leave the White House for a new role that will "deal with the 'war of ideas' involved in countering radical Islamic extremism" and "will entail an appointment to a federal agency."
Assuming the reports are accurate, it's highly unlikely that Gorka is leaving the White House by choice, particularly following a Buzzfeed report last week that suggested he lacked the necessary security clearance to even be a national security adviser. Also, in light of Gorka's reported links to anti-Semitic groups, Democratic congressman Jerrold Nadler submitted a request to the Trump administration in March asking for Gorka's immigration paperwork so that the House Judiciary Committee could "be assured that he did not enter this country under false pretenses." (Gorka is a naturalized U.S. citizen born to Hungarian parents in the U.K.)
The former Breitbart editor was also a deputy assistant to President Trump specializing in counterterrorism, as well as a member of the Strategic Initiatives Group, an internal organization at the White House. That's all on paper, however, as it may not have actually been clear what Gorka really did in the administration, a White House source explained to the Examiner:
[The source] said Gorka's role has always been unclear and said Gorka never had national security issues in his portfolio. "This guy has always been a big mystery to me," the source said of Gorka's contributions to the staff. The source said Gorka's only known duties included speaking on television about counterterrorism, as well as "giving White House tours and peeling out in his Mustang," but added that he had few notable responsibilities.
Regarding Gorka's supposed counterterrorism expertise, that claim — as well as his extreme views on the subject — deserve serious scrutiny, too.
The precise timetable for Gorka's departure is not yet clear.