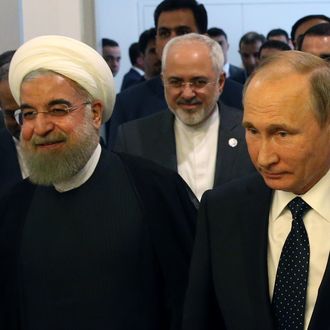 Rouhani and Putin.
Photo: Mikhail Svetlov/Getty Images
Over the weekend, as the Trump administration struggled to explain its position on Syrian president Bashar al-Assad, Russia and Iran reaffirmed their support for his regime. In a statement released by their joint command center in Syria, the Assad allies called last week's United States missile strike in Homs province "a crossing of red lines." The statement continued: "From now on we will respond with force to any aggressor or any breach of red lines from whoever it is and America knows our ability to respond well." What exactly that response might look like was unclear.

Russian president Vladimir Putin and Iranian president Hassan Rouhani also spoke on the phone over the weekend. According to the Kremlin, the two leaders agreed that the U.S. had acted "in violation of international law" and called for an investigation into "the chemical weapons incident" in Idlib province that prompted the strike. Though the consensus is that Assad was responsible for the sarin gas attack, Russia — which spearheaded a deal to eliminate Syria's chemical arsenal back in 2013 — has tried to shift the blame to Syrian rebels.
Secretary of State Rex Tillerson is scheduled to meet with his Russian counterpart, Sergey Lavrov, after this week's G7 meeting in Italy. (The Associated Press reports that the G7 nations — the U.S., the U.K., Canada, France, Italy, Germany, and Japan — plan to "pressure" Russia to drop its support for Assad.) Tillerson, who developed a friendship with Putin during his time as the CEO of ExxonMobil, criticized Russia on Sunday, saying that the country had either been "complicit" or "simply incompetent" when it came to preventing Assad from using chemical weapons. He also said that Russia's apparent meddling in the 2016 presidential election had "[undermined] any hope of improving relations."
Meanwhile, British Foreign Secretary Boris Johnson canceled his own planned meeting with Lavrov, saying, "Developments in Syria have changed the situation fundamentally." "We deplore Russia's continued defense of the Assad regime," said Johnson, who added that, rather than visit Moscow, he'll focus his energy on working with the G7 "to build coordinated international support for a ceasefire on the ground and an intensified political process." The U.K.'s Russian embassy, which knows how to have fun online, responded with this: