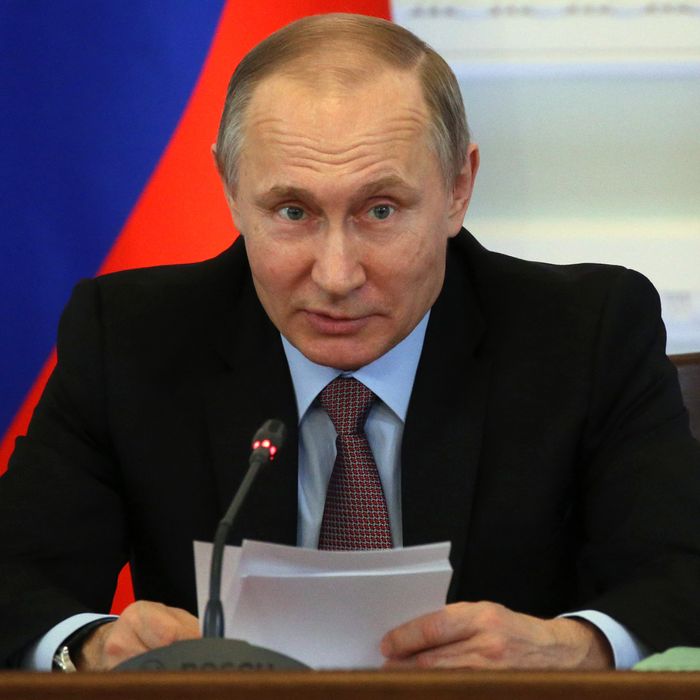 Make the guy from The Apprentice president? It's just crazy enough to work.
Photo: Mikhail Svetlov/Getty Images
Two new reports shed light on what led the U.S. government to conclude that Russia attempted to meddle in the U.S. election, and why the FBI began looking at a possible connection to the Trump campaign.
Following the election, U.S. intelligence agencies obtained two documents from a think tank controlled by Russian president Vladimir Putin, according to Reuters. Seven current and former U.S. officials said the papers produced by the Moscow-based Russian Institute for Strategic Studies laid out Russia's strategy and rationale for attempting to swing the election to Donald Trump, or at least undermine faith in the U.S. electoral system.
The first document, which was written in June, reportedly calls for Russia to launch a propaganda campaign on social media and Kremlin-backed news outlets, such as Russia Today and Sputnik, to elect a president who would take a friendlier approach toward Russia. The second document, which was written in October, is said to conclude that Hillary Clinton would probably win the election, so Russia should start pushing voter fraud claims to undermine her presidency.
The Russian institute's website says it provides "analytical materials" to the Russian government, and Reuters reports that it's staffed by retired senior Russian foreign intelligence officials appointed by Putin's office. The documents don't mention the hacking of Democratic officials' emails — which U.S. officials say was run separately by the Kremlin — but they are said to be a cornerstone of the U.S. intelligence agencies' conclusions about Russia's election activities.
"Putin had the objective in mind all along, and he asked the institute to draw him a road map," a former senior U.S. intelligence official told Reuters.
The documents say nothing about potential coordination between Russia and the Trump campaign, but on Wednesday the New York Times revealed the "catalyst" for the FBI's investigation of the issue: former Trump campaign adviser Carter Page's trip to Moscow last July.
The FBI became aware of Page when a Russian spy tried to recruit him in 2013, but it's unclear what about his 2016 trip raised concerns. During his speech at the New Economic School in Moscow, Page harshly criticized U.S. policy toward Russia. The unverified dossier compiled by a former British intelligence agent alleges that Page met with Igor Sechin, Putin confidant and CEO of the Russian state oil company Rosneft, during the Moscow trip. Both men deny this.
Last week the Washington Post reported that the FBI obtained a FISA warrant to begin monitoring Page's communications last summer. The Trump administration has been downplaying Page's ties to the campaign for months. He submitted policy memos and participated in some campaign events in the spring and summer of 2016, but it appears he never met Trump.
Page has defended himself in a number of media appearances in recent weeks, and he says he's pleased that more information about the FBI's investigation of him is becoming public. "I'm very encouraged that all of the lies that have been a drag on this administration are finally coming out into the open," he said on Fox News.