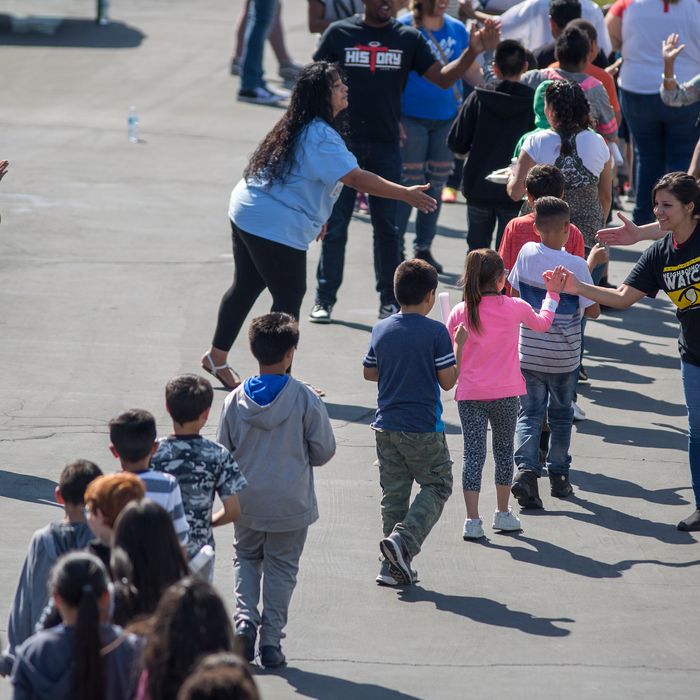 Volunteers encourage students with cheers as they arrive to be reunited with parents at Cajon High School on April 10, 2017, in San Bernardino, California.
Photo: David McNew/Getty Images
Less than two years after the terrorist attack in San Bernardino, California, tragedy struck the community again on Monday when a man opened fire in his estranged wife's elementary-school classroom, killing her and one student, and wounding another child.
Police say Cedric Anderson, 53, said nothing as he entered the classroom at North Park Elementary and fired six shots from a .357 caliber revolver at Karen Elaine Smith, 53, his wife of four months. The two students were standing behind Smith, and according to the New York Times it's unclear if they were hit by gunfire or wounded with shrapnel. Jonathan Martinez, 8, was airlifted to the hospital, where he was pronounced dead. A 9-year-old boy who was also wounded was in stable condition Monday afternoon.
When police arrived on the scene around 10:30 a.m., they found Anderson had turned his gun on himself too.
Smith was the lead teacher in a special-education class of 15 students, who ranged from first- to fourth-graders. Two aides were also in the room at the time of the shooting.
School officials said they increased security after the mass shooting in 2015, and Anderson followed proper procedures for entering the school. He checked in at the front office, saying he had to drop something off for Smith. The school does not have metal detectors.
Police have not discussed Anderson's motive for the shooting. The couple separated last month, but police received no reports of violence between them. Anderson had a criminal record that included domestic violence in a previous relationship and weapons charges.
"No one has come forward to say they saw this coming," police Chief Jarrod Burguan said.
According to the AP, Anderson's Facebook page only includes declarations of his love for Smith, whom he had known for four years, and talk about his religious devotion. However, Smith's mother, Irma Sykes, said a different side of him emerged in recent months.
"She thought she had a wonderful husband, but she found out he was not wonderful at all," Sykes told the Los Angeles Times. "He had other motives," she added. "She left him and that's where the trouble began. She broke up with him and he came out with a different personality. She decided she needed to leave him."
Joshua Smith, 30, one of Smith's four adult children from a previous relationship, told the Washington Post that Anderson appeared "a bit different" at first, but later they realized he was "paranoid and possessive." The behavior led his mother to leave Anderson, just months after the couple married in January.
Smith described his mother as a "genuinely loving and caring person" who was a devoted Christian. "She loved life, her career, and especially her children," he said. "It seems surreal that she is gone, that I will no longer hear her voice and that she won't see her granddaughter grow up. It hurts, but I know she is with God now."
Police escorted 600 students out of the school, many walking hand-in-hand, and bussed them to California State University's San Bernardino campus. Parents complained that the school was too slow to notify them, and there was confusion about where they were supposed to pick up their children.
School officials said counselors were already sent to talk with students, but parents said they're still worried about the effect the shooting would have on their children. "They can't just tell us your kids are fine," said Elizabeth Barajas, who was in Smith's classroom. "Obviously my kid is not fine. She witnessed what happened to her teacher and the other students, and all they said is your kids are safe, your kids are fine."