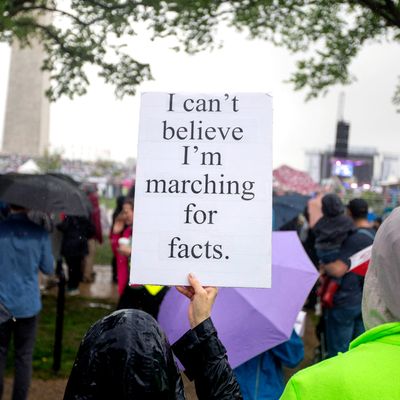 In D.C. on Saturday.
Photo: Jessica Kourkounis/Getty Images
Scientists and their supporters amassed in large numbers in hundreds of cities across the globe on Saturday to participate in the March for Science, a worldwide protest in support of science, scientists, and the value of scientific research. More officially, the nonpartisan event was meant to encourage "political leaders and policymakers to enact evidence-based policies in the public interest." Many attendees in the U.S., however, appeared to be motivated as much by their respect for science as they were by the Trump administration's perceived antipathy toward it. The sweeping White House–proposed budget cuts to federal agencies that fund scientists and their research was instrumental in driving interest in the march over the last few months; government science budgets were clearly on the minds of many other marchers across the world, too, as was the threat of human-driven climate change. Evidence and reality may be neutral, but in the present political climate, scientists may no longer be able to be so.
Whatever the specific motivations of individual participants, the overall march was undoubtedly a unique event in the history of science and politics. As the Washington Post's Chris Mooney explains after talking to some science historians, "While scientists and their allies have argued about and even occasionally protested on specific political topics over the years, taking to the streets in a sweeping defense of scientific truth itself and its role in policymaking seems considerably broader and, for the research world, more fundamental."
The idea for the event emerged following the March for Women in January, another moment of activism that was largely energized by opposition to President Trump. The March for Science then immediately got traction on social media, and pretty soon major science organizations were signaling their support and helped spread the word. On Saturday, marches ranged in size from dozens to hundreds to as many as 40,000 people.
It was also a perfect opportunity for some very smart people to think up a lot of witty and wonderfully nerdy protest signs:
Her sign reads: "I am 102, I know what science can do":
And one accessory:
Official crowd estimates are hard to find, but it seems that at least 10,000 people from across the U.S. assembled for the rainy main event in Washington, D.C., where in addition to a large march, speakers, scientists, and performers took to the stage to address the crowd:
Another estimated 40,000 marched in Chicago, and large crowds also gathered in Los Angeles, New York, Iowa City, Boston, San Francisco, Philadelphia, and dozens of other U.S. cities:
Internationally, as many as 12,000 marched in London, plus thousands more in Sydney, Berlin, Auckland, Paris, Melbourne, Amsterdam, and other big cities, as did various-sized smaller groups in places like Iceland, Cape Town, Dhaka, Brazil, and more. All told, organizers say more than 600 March for Science events were planned around the world on Saturday. Here are scenes from some of them:
It's unlikely that anyone marching on Saturday was very impressed with the signals President Trump was trying to send with his Earth Day statement, however:
Science and Wired have been rounding up photos and first-hand reports from many of the world's March for Science events, if you'd like to dig deeper.