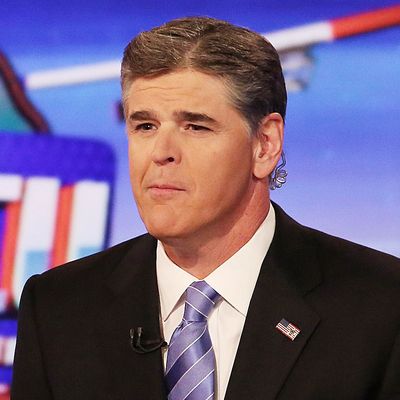 #IStandWithShine.
Photo: Paul Zimmerman/Getty Images
Sean Hannity got a little loopy on Twitter this afternoon, firing off a series of tweets in response to today's Daily Intelligencer piece about the latest signs of upheaval at Fox News.
To recap: Our story says James and Lachlan Murdoch — the CEO and co-chairman, respectively, of Fox News parent company 21st Century Fox — refused to provide Bill Shine, the network's co-president, with a public letter of support this week.
"By refusing to back Shine at this tumultuous moment for the network, the Murdochs may finally be signaling that they're prepared to make the sweeping management changes they've so far resisted after forcing out CEO Roger Ailes last summer," Gabriel Sherman writes.
And as Hannity made clear today, he thinks Shine's ouster would mark the end of Fox News. He also doesn't know what to call an umlaut.