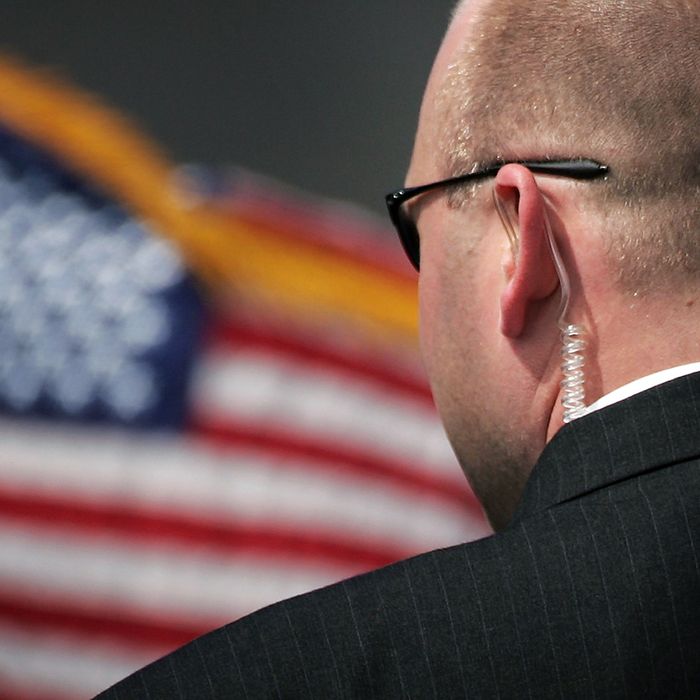 It's been a rough few years for the Secret Service.
Photo: Bruno Vincent/Getty Images
The ongoing controversy over Secret Service misconduct branched out into new territory last month with the theft of an agent's laptop from a parked car in Brooklyn, but now they're getting back to basics. CNN reported on Wednesday evening that a Secret Service agent on Vice-President Mike Pence's detail has been suspended after he was caught meeting a prostitute in a Maryland hotel room.
According to a law-enforcement source, a hotel manager called the police to report suspicious activity in one of the rooms, and the agent was spotted leaving the hotel. The agent, who was not on duty at the time, was arrested and charged with solicitation. He reported the incident to the Secret Service.
A Secret Service spokesperson said the agent was placed on administrative leave and surrendered his weapon. The spokesperson said the matter is under investigation, and, "We are exploring the full range of disciplinary actions."
The Secret Service has been plagued by a number of embarrassing incidents over the past few years, ranging from agents' personal misconduct to security breaches at the White House. One of the biggest scandals occurred in April 2012, when about a dozen agents were sent home from a presidential trip to Colombia for bringing prostitutes back to their rooms. Eight agents wound up losing their jobs.