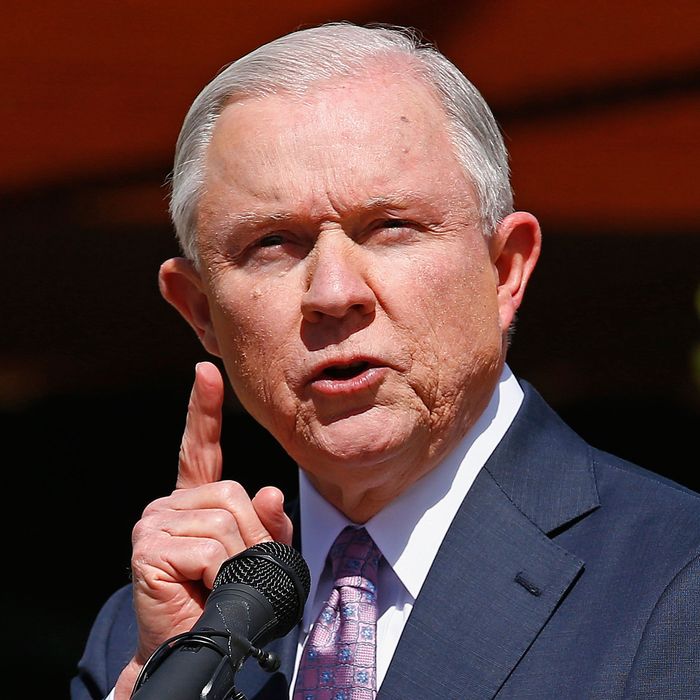 This is the Trump era.
Photo: Ross D. Franklin/AP
Donald Trump may never get Congress to pay for his border wall. He may never get the courts to back off his travel ban. But there's one thing our system of checks and balances hasn't take away from the president's nativist base — Attorney General Jeff Sessions.
On Tuesday, Sessions issued a memo calling on federal attorneys to ramp up the prosecution of undocumented immigrants (or "aliens," as he calls them in the memo) for identity fraud, document theft, and fraudulent marriages. He also implored federal prosecutors to crack down on those who "harbor" undocumented immigrants, and instructed the Justice Department to pursue felony charges against immigrants who enter the U.S. illegally on more than one occasion.
To celebrate the DOJ's draconian new guidance, Sessions took a trip to the border town of Nogales, Arizona. There, he broke the bad news to your huddled masses yearning to breathe free.
"For those that continue to seek improper and illegal entry into this country, be forewarned," Sessions said. "This is a new era. This is the Trump era."
"The lawlessness, the abdication of the duty to enforce our immigration laws, and the catch and release practices of old are over," the attorney general declared.
Sessions went on to decry "international criminal organizations" that "turn cities and suburbs into war zones" and "rape and kill innocent civilians."
"Depravity and violence are their calling cards," Sessions said in his prepared remarks. "It is here, on this sliver of land, where we first take our stand against this filth."
When delivering the speech, Sessions dropped that last bit about how Mexico is basically the origin of "filth." Ostensibly, he'd prefer to communicate that sentiment through his policies.