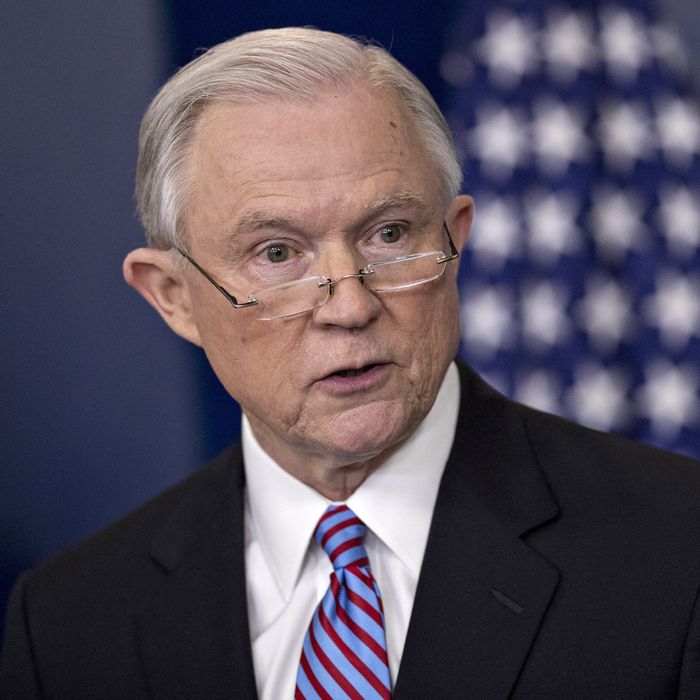 Jeff Sessions.
Photo: Andrew Harrer/Bloomberg via Getty Images
While President Trump promised to do away with President Obama's Deferred Action for Childhood Arrivals program during the campaign, he's kept the program in place, and Homeland Security Secretary John Kelly said last month that the government is obligated to honor the terms of the program.
So when reports emerged on Wednesday that Juan Manuel Montes, a 23-year-old who has lived in the U.S. since he was 9, was deported to Mexico, Democrats and immigration advocates accused the Trump administration of going back on its word.
Wednesday on Fox News, Attorney General Jeff Sessions denied that DACA recipients are being targeted for deportation. "I don't know why this individual was picked up," Sessions told Jenna Lee. "Everybody in the country illegally is subject to being deported, so people come here and they stay here a few years and somehow they think they are not subject to being deported — well, they are."
When pressed to clarify the administration's policy on DACA, Sessions responded:
The policy is that if people are here unlawfully, they're subject to being deported. Our priority is clear. Our priority is to end the lawlessness at the border, stop the additional flow of illegals into the country and then to prioritize those who have gotten into trouble with the law, recent arrivals, people who have been deported previously, drug dealers, and other criminal activists.

But you know, we can't promise people who are here unlawfully that they're not going to be deported .
Montes has filed a lawsuit to force U.S. Customs and Border Protection to release information about why he was deported. The Department of Homeland Security says Montes invalidated his DACA status when he left the country for Mexico, which is why he was deported after climbing over a border wall on February 19. Montes says he was only in Mexico because CBP agents questioned him in California and deported him two days earlier.
A familiar figure will decide Montes's case: U.S. District Judge Gonzalo Curiel, the judge President Trump accused of being biased against him in the Trump University fraud case because of his "Mexican heritage."
Judge Curiel was assigned to the case based on a rotating schedule, and he's unlikely to recuse himself, according to Kari Hong, an assistant professor at Boston College Law School. "Simply being attacked by the president isn't a conflict of interest. If that were the standard, the entire 9th Circuit Court of Appeals couldn't handle a single case," she told USA Today.